A small apartment in Madrid recently received a modest facelift thanks to Elii Architects. The renovation was aimed at creating a more functional living environment for the owner, one that would allow a single room to serve several purposes.
The project has been dubbed "Susaloon" by the architects, referencing the concept of a black box as seen on theater stages. The area allocated to the redesign measures just 253 square feet (23.5 square meters) and makes great use of a timber panelling/shelving system to create different rooms.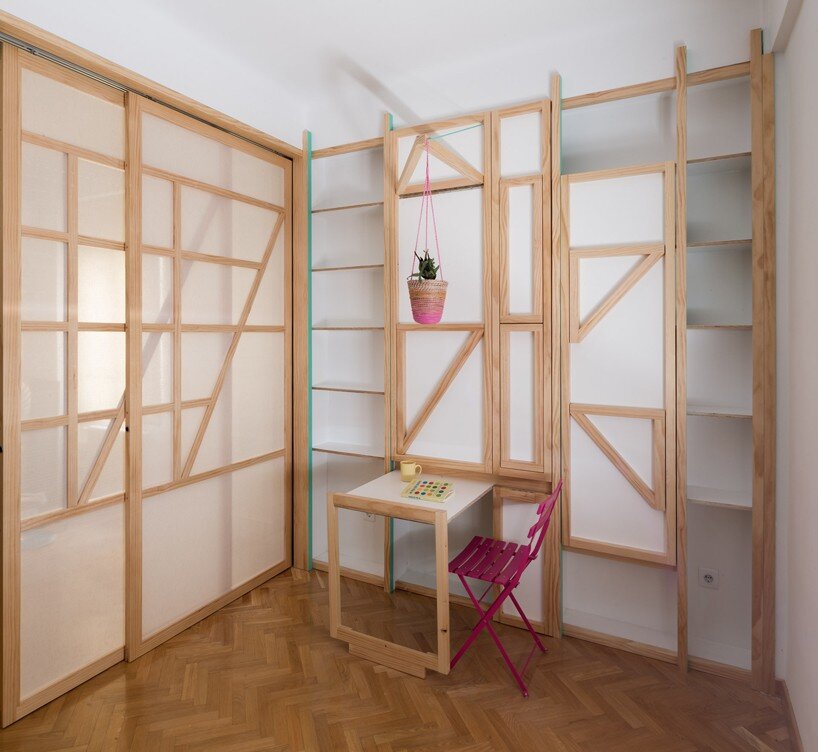 The walls of the room are lined with shelves, sliding panels and fold-away components. As can be seen from the photographs, one half of the room features a single coffee table and dining room table. The dining table doubles as an ironing board and, depending on its configuration, can sit between two and four people.
The other half of the room contains more shelving and storage options, but also has a fold-down single bed. The corner of the room can also be partitioned off with a screen to create another, more private, living space.
According to the architects, the plan was developed in with three strategies in mind: "The first was to adapt the configuration of the space to the needs of its inhabitant, where certain household items were relocated to optimize the distribution and everyday use."
"Secondly, open up any unnecessary partitions, maximizing natural light and views of the city. Lastly, was adding the main design feature which was the addition of a series of fold-down and sliding devices." The apartment is like a Swiss Army Knife with its inventive furniture and storage solutions helping to make the home that much more liveable.
For more apartments, check out this Bauhaus-inspired 1930's apartment makeover in Tel-Aviv. Or, this apartment that features a blend of functionality and fun in Moscow. See all apartments.