Set in El Quinche, Ecuador, this house has been designed for a family as a weekend retreat from their main residence. It's been designed Ecuadorian architect, Filipe Escudero, and built by Sebastián Ordonez.
The project has simply been titled El Quinche, after its location. Concrete is the material of choice. It forms the main structural and internal walls, dividing the boxy house up into a number of rooms.
The house overlooks the wilderness and countryside of the El Quinche valley. Perhaps it was the scenery which drew the owners to the area, either way, they now have a weekend retreat set in the midst of a forest, hills and mountains.
The bare concrete of the exterior continues through to the interior. The living rooms are imbued with a patchwork of concrete created from the timber forms during the pouring. All that concrete soaks up light. To combat it, the house features large patio doors and windows.
Despite the large openings, the home does seem to be quite dark in places (although it looks like the pictures were taken with natural light only, and not bolstered by artificial lighting). The uniform grayness found throughout is offset by the rather funky and brightly colored furnishings and fixtures.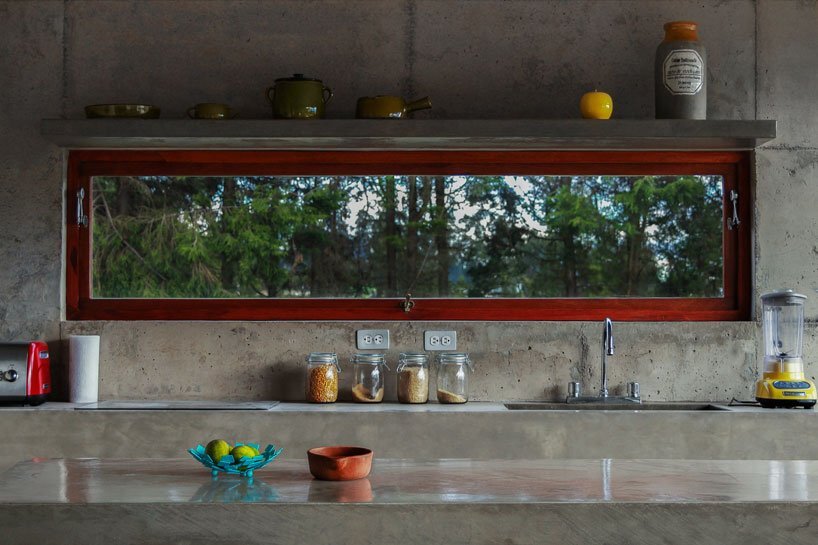 The rough-poured concrete of the walls gives way to much smoother concrete finishes that carve out the kitchen workspace and bathroom sink. As far as I'm aware, there's no floor plan available, but the house contains a total of 753 square feet (70 square meters).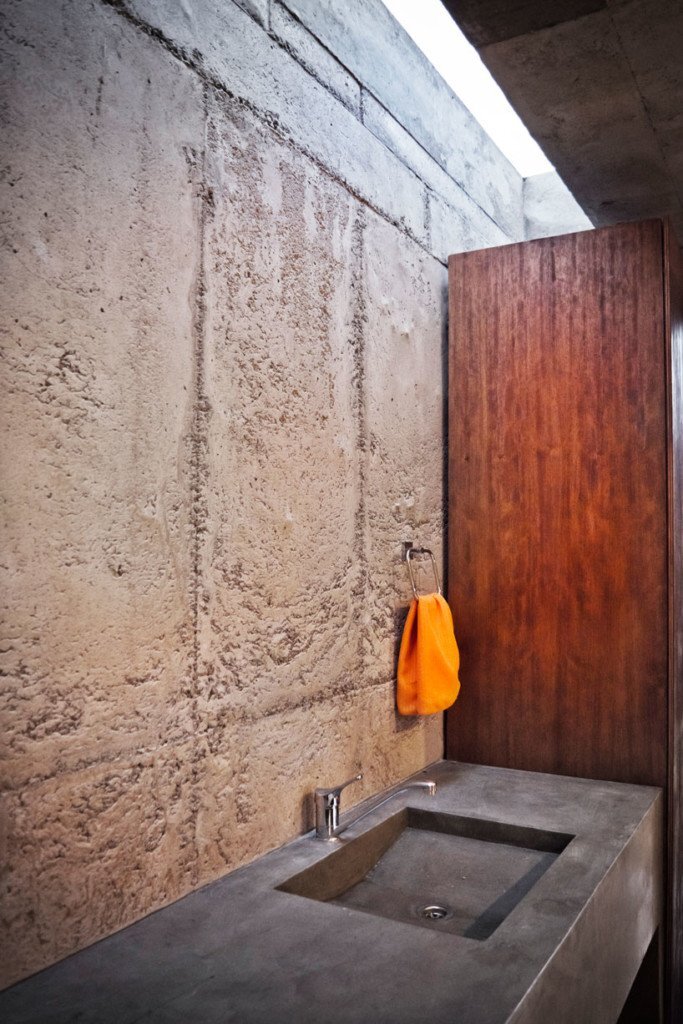 I'm a fan of designers and builders that can create dwellings that immerse themselves in their surroundings. Whether or not this is the case with EL Quinche, is up for debate. Some are of the opinion that you shouldn't attempt to blend in with natural surroundings, and it's this approach that Escudero seems to have taken.
For more small houses check out Hadar's House, acabin set on the island of Stokkoya in Norway. Or, Deveneter House, a small family home set in an industrial district. See all small houses.
Via DesignBoom
Photos: Felipe Escudero