This concept tiny egg-shaped dwelling has been produced by the Bratislava-based firm, Nice Architects. Called Ecocapsule, it's intended for off-grid use and features a variety of renewable energy systems to power it regardless of the weather.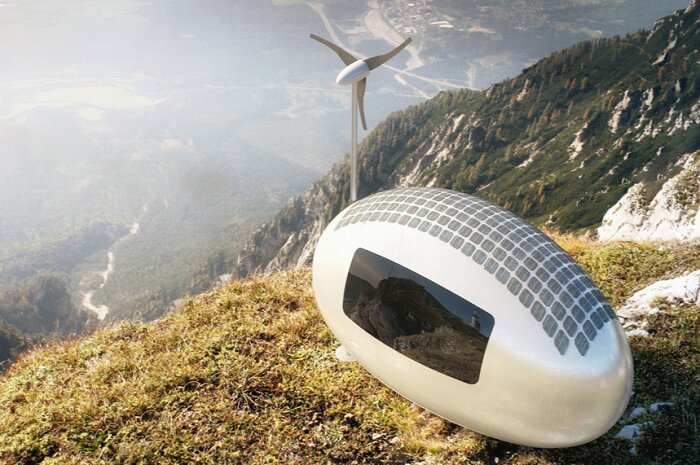 Ecocapsule features 28 square feet (2.6 square meters) of photovoltaic cells on its roof. In addition to this, there's also a 750 Watt wind turbine. Both the PV cells and the turbine are used to charge a 4200 Wh battery bank. The third renewable feature is it's built in rainwater catchment and harvesting system.

Unfortunately it's not clear how the rainwater catchment system works; there's no indication from the concept images where rainwater is siphoned off from the roof. The capsule itself measures 14′-7″ by 8′ (4.5 by 2.4 meters) and has an internal floor plan of 86 square feet (8 square meters).
The interior contains a kitchenette, a bathroom with a toilet and shower, a folding bed, a storage area, and a dining/study desk. There are two windows, one on each side of the main living area. On the outside you'll also find a section of the pod dedicated to external storage.
The architects can see it being used for anything from an independent research station, to tourist lodgings, or emergency housing. I would scrub emergency housing off the list as there are a number of much more cost-effective disaster relief options already available.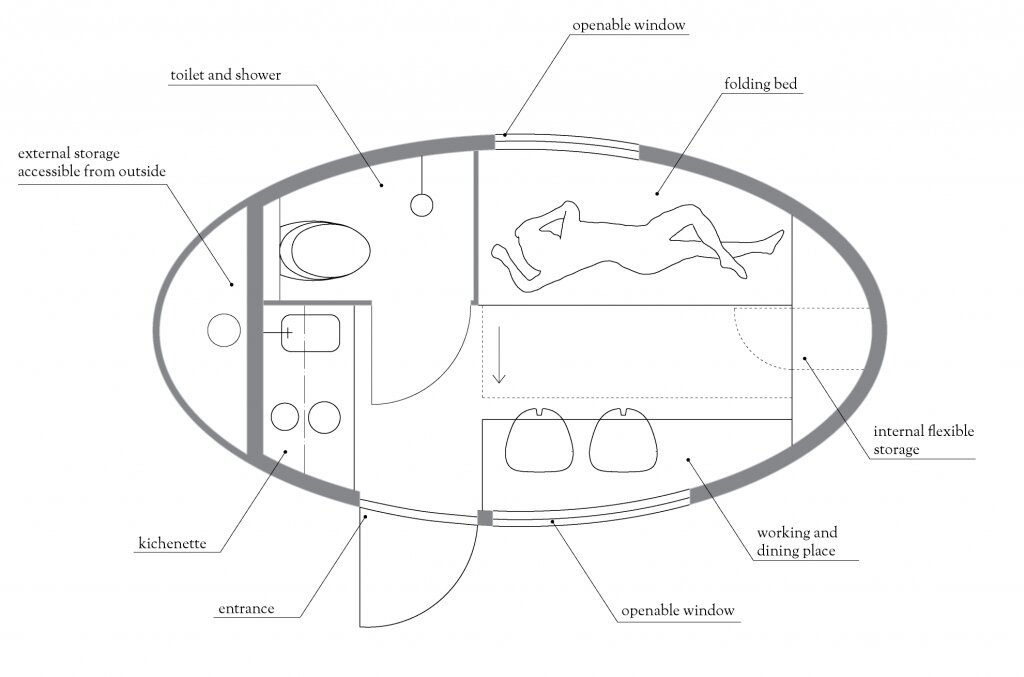 Nice Architects claim it will offer long off-grid stays, easy transport around the globe, and that it doesn't require any supporting infrastructure (a point that's been contested by Lloyd Alter of Treehugger). No doubt some of it is nonsense, but it is after all just a concept, and a rather pretty one at that.
For more off-grid houses check out this micro-retreat in Cape Russel. Or, this tiny off-grid cabin by Moxon Architects. See all off-grid posts.
Via TreeHugger
Photos: Ecocapsule