Domaine Floravie is a vacation destination from Quebec, which decided to include an offering of tiny houses as part of its portfolio of accommodation.
They've nicknamed them Tiny House Chalets; a little more romantic than tiny houses on wheels. The construction and running of the chalets are based on the principles of sustainable development.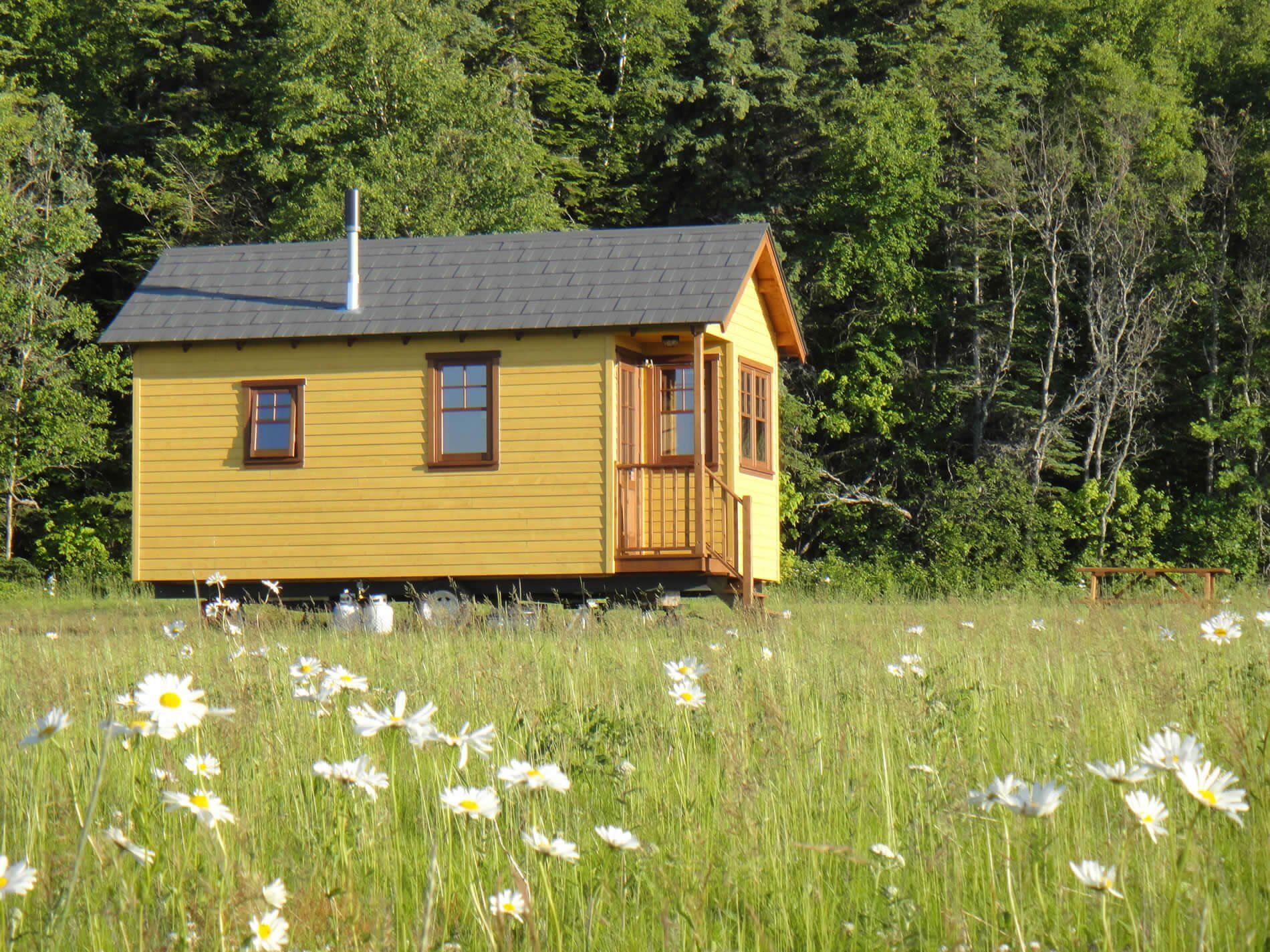 According to Domaine Floravie, the chalets measure 10-by-20 feet (3-by-6 meters). The floor plan is similar in layout to the Fencl, one of first tiny houses to be designed by Jay Shafer of Four Lights Houses (formerly of the Tumbleweed Tiny House company).
As mentioned previously, there was a heavy focus on creating eco-friendly tiny houses. When possible, materials were sourced from local suppliers (the wood in particular). To keep the interior cozy regardless of the time of year, the walls were insulated with hemp wool.
The occupants electrical needs are catered for through the use of solar panels, and because they want to foster an environmental awareness in the mindset of their guests, the water supply is limited. Domaine Floravie also state that they've been mounted on trailers so as to help reduce their physical impact on the land, moving them if and when necessary.
The interior layout consists of an open plan living room and dining area to the front. The portion of the home set under the loft contains the kitchen and adjacent bathroom (complete with a shower and toilet). The loft, accessed by a ladder, acts as the bedroom, with enough room for a double bed and some storage space around the sides.
The house's design is typical of the first foray into tiny housing. Nowadays, tiny houses tend to be much more customized, aiming to take advantage of every trick in the book in order to maximize storage and living areas. But if you're thinking about downsizing to one, Domaine Floravie's chalets may act as a good trial.
For more tiny houses check out Little Lou, a tiny house built from salvaged materials. Or, Zyl Vardos' unique personal homes that ooze quirkiness and charm. See all tiny houses.
Photos: Domaine Floravie