Teardrop trailers come in many shapes and sizes, but this is probably the only steampunk teardrop trailer you'll find on the road. It's been built by Dave Moult who likes to mix different odds and ends to create Victorian-esque pieces.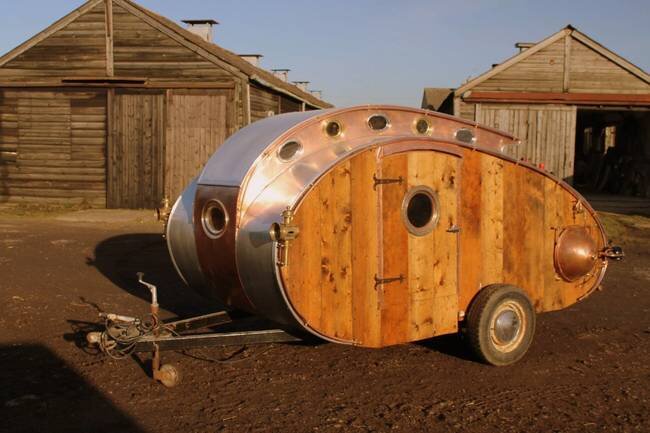 Moult has used a variety of different metals, leather and woods to produce the trailer. A lot of the parts have been sourced from eBay, bought at car-boot sales, or have just been discarded by others and re-purposed to fit in with his creation.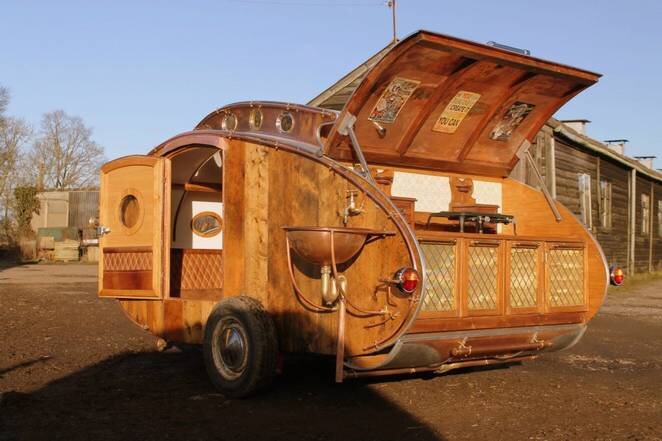 The materials themselves are often cheap, but the number of hours it's taken to design, build and tinker with the teardrop have quickly added up: "Our current build started in August last year and has had hundreds of hours put into it so far, and we still haven't finished."
The exterior of the teardrop is finished with a copper roof and wood plank side-walls. There's also a small sink bowl fastened to the right-hand-side that can be folded away when on the road. A central raised section provides a sort of light well with a number of oddly-shaped porthole like windows.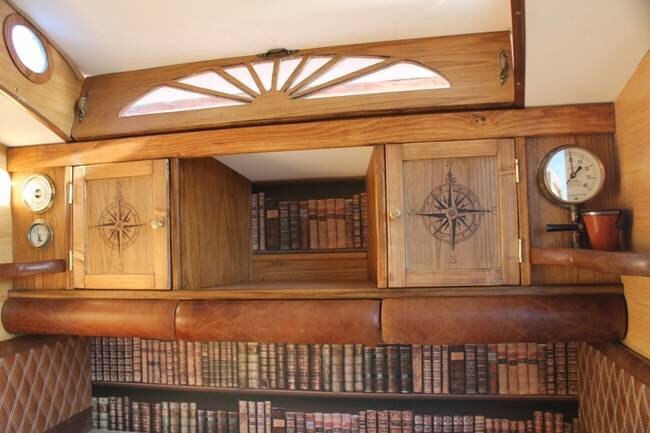 The interior is just as idiosyncratic as the exterior. There are wood walls with a white-painted ceiling, and leather seating that runs along and up the sides of the teardrop. A funky chandelier hangs from the ceiling, and was actually fashioned out of an old coffee pot.
The trunk of the trailer contains a small kitchen area, with a rather fancy silver coffee urn. The overall effect of the different items gives it a nautical theme. Who wouldn't love to take on a project of such fantastical whimsy?
For more spaces check out this Chevrolet bus that's been converted into a funky mobile camper for a family. Or, The Garage, a modern light infused retreat by the design studio Graypants. See all spaces.
Via TreeHugger
Photos: Dave Moult