This modern family house in the city of Takasaki, Japan, has been designed in a collaborative effort by studios SNARK and OUVI. The house is set on a narrow lot, sandwiched between two adjacent buildings, and looks out over a cemetery.
The three-storey building has a footprint of 20-by-42 feet (6-by-13 meters), and has been designed to cater for two generations of one family. The confines of the site prompted the architects to introduce internal features that would help take advantage of natural light, and create a sense of spaciousness.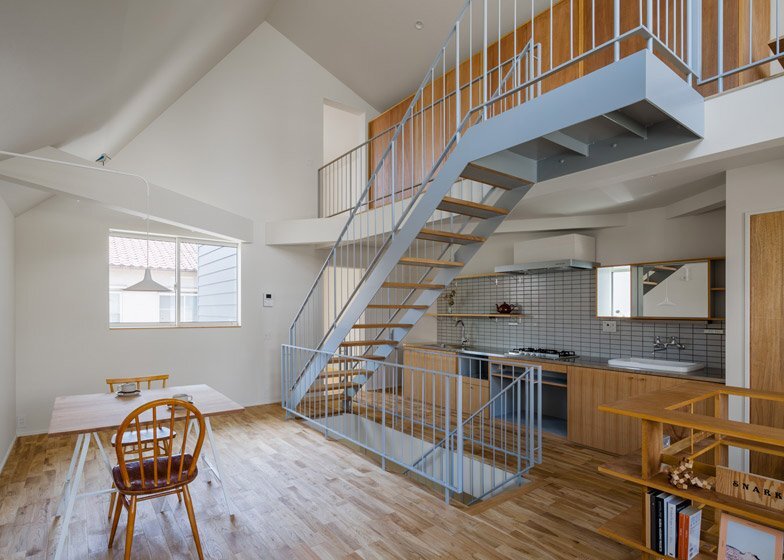 The interior features setbacks, floor openings, balconies/walkways and, of course, lots of windows and skylights. By comparison, the exterior is rather quiet, and fits snugly into the site in terms of overall size, proportions and form.
The clients had a relatively simple brief for the architects, to create a "well-lit and ventilated double house duplex to share with their parents." To address the needs of the building's oldest occupants, the entire ground floor has been dedicated to them, with its own separate bathrooms, kitchen, dining and living areas.
The two upper floors of the house belong to the clients. A modern steel staircase provides access between the different levels while also dividing up the space. The second floor is an open plan living space containing the kitchen, dining room, and living room. A small bathroom and bedroom can also be accessed from the main living space.
The final level of the home provides access to a sheltered balcony. The finish throughout is clean and contemporary, with a white and grey palette that's warmed by wood. Overall, it's a well thought-out and designed home that meets the needs of both generations, by creating overlapping spaces that don't intrude on one another.
For more Japanese houses check out this functional family home from Niigata called OH! House. Or, the Bud House which features a split floor level design that helps to maximise on space. See all Japanese houses.
Via Dezeen
Photos: Shinzawa Ippei