Finished in wood both inside and out, this slender building serves as a home and a studio. It's been designed by a local firm called Office For Environment Architecture (OFEA) for a client who wanted to mix home and work life. The owner is a pottery artist, which lead to naming the home "House for Pottery Festival".
The house is set on a long narrow site, measuring approximately 9.8-by-111.5 feet (3-by-34 meters). It contains a split level floor plan, where each level contains a single room, or serves a particular function. The simple structural form resembles that of a shed – it's a no-frills, minimal design (from the outside anyway).
The shed theme continues on the inside, which has been lavishly finished in wood throughout. The structure is on show, with rafters, floor joists and even wall studs being left uncovered. The house makes use of a double wall system, and it's the outside wall which will contain the insulation and moisture barrier, allowing them to leave the interior wall exposed.
Windows, for the most part, are located at the ends of the house. A few smaller windows have been included light up the bathrooms, and living room. It's not clear why there's a lack of windows along the side wall, but it's probably down to privacy and the house's proximity to adjacent buildings.
The windows to the front frame views of the Mount Nijo mountain range in the distance. The windows at the opposite end feature views of the town. The downside to using all that wood is that the interior seems to be a little dim at times. Artificial lighting is used throughout to help mitigate the issue.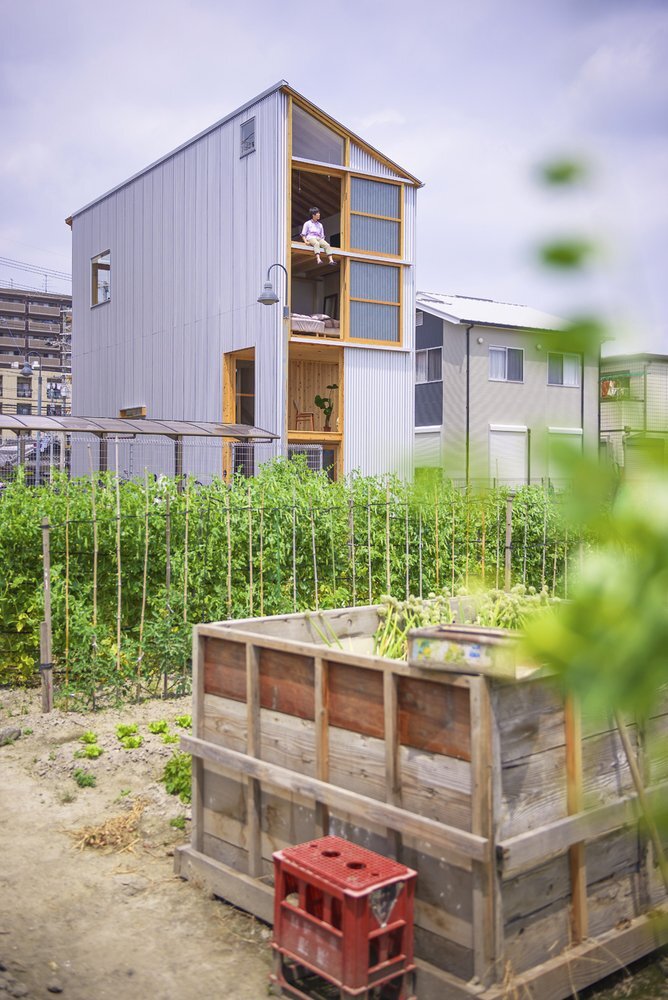 The first floor is dedicated to the pottery studio, with a partially enclosed kiln found to the front. The next level up contains a "free space" which doesn't have any specific purpose, other than whatever the owner wishes to do with it. The free space contains the home's main bathroom.
A short flight of steps takes you to the master bedroom, which features a wall lined with closet space. The final levels of the home contain the main living spaces – the kitchen, a dining area, and a living room. The success of this home is to be found in its simplicity. Although, given the lack of guard rails, it's definitely not a house designed with children in mind.
For more Japanese houses check out this small modern family home from Nogoya. Or, Double Helix House, a house that's been built upwards to make the most of a small plot. See all small houses.
Via ArchDaily
Photos: Yuko Tada