This 8-by-24 foot tiny house on wheels has been built by Brevard Tiny Homes. Located in North Carolina, they've made several tiny houses to date, although this one, dubbed Chickadee, is my favorite.
The first floor of this home focuses on providing an adequate living area and kitchen. The kitchen is generously sized for a tiny house, and features an L-shape that wraps around the gable end. In the living area they've gone for a cathedral ceiling, maximizing the perceived space.
The kitchen seems to be geared towards those that actually cook – often in dwellings of this size the occupants are left with kitchenettes, which isn't a great option for any budding chef. It's equipped with a 4-burner stove, a large refrigerator, plenty of cabinets and drawers, and a narrow shelving unit that frames the fridge.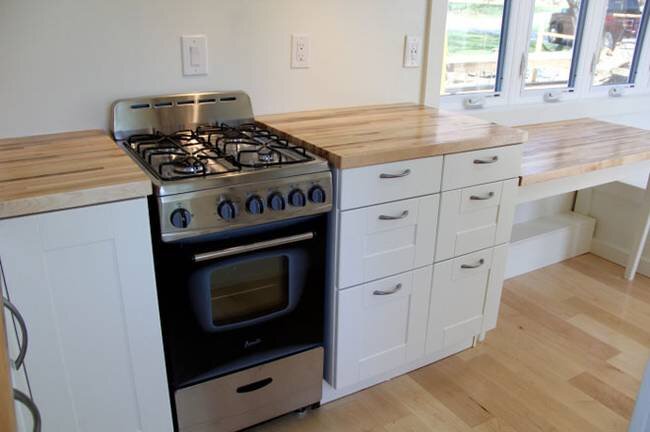 There are two lofts: one over the kitchen and another placed over the bathroom at the opposite end of the home. The main loft (the one used as a sleeping space) is accessed by a modern-looking alternating tread staircase. The underside of the staircase has been used to provide the occupants with some much needed storage.
The bathroom manages to squeeze in a tub, which is a real rarity among tiny houses of this size. Not only that, but they've also included a washer/dryer in the bathroom – a necessity for anyone planning to living in a dwelling of this size on a long (or even short) term basis, unless you have a laundromat nearby.
All in all, they've managed to fit quite a lot into a space that has a footprint of just 192 square feet (18 square meters). This particular model is available in turnkey condition for $55,300. You can visit their website for more details.
For more tiny houses check out Tinystream, an Airstream inspired dwelling from France. Or, Harmony House, another tiny getaway on wheels from Nova Scotia. See all tiny houses.
Via TreeHugger
Photos: Brevard Tiny House