Van conversions seem to be on the rise lately. This Chevy cargo van has been retrofitted by Zach Both and his father. For Zach, who is a film-maker, the van provides him with the freedom to travel from one location to another at the drop of a hat.
The project had to meet two main requirements: to create a home on the road, and to function as a workspace for his film-making. I think it's fair to say the van exceeds on both levels. It has one of the best finishes I've seen to date – it's features a minimal, calming interior composed of warm wood, greys fabrics and white walls.
The wood on the roof and cabinets was sourced from a 19th century church in Cleveland, Ohio. Several of the windows are covered with a chalkboard finish, blacking out the windows and providing privacy. If it gets too warm or dark, they can still be opened.
The rear of the van is occupied by a futon bed that can be repositioned to create a sofa. The cabinets provide a surface on which Zach can work from. They also create space to house his kitchen, which is composed of a two-burner cooktop and a small refrigerator.
To power his home on wheels, solar panels have been mounted on the roof. They generate enough electricity to power his fridge, mobile wifi, laptop, and a home theatre. From Zach: "Filmmaking by nature is a nomadic pursuit. It's a constant migration to and from different locations based on what the storytelling requires."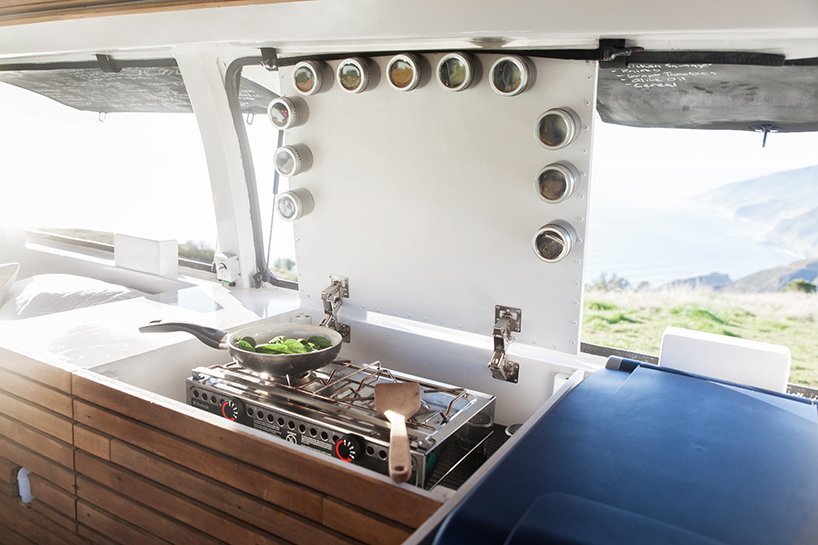 "with this van, I now have complete freedom to write a script surrounded by mountains, direct a shoot in a remote desert town and then collaborate with an editor or composer in Los Angeles — all within the same month. That would be impossible any other way."
For more cozy van conversions check out this Volkswagen T6 that's been transformed into a sophisticated camper. Or, Happier Camper's HC1, a retro travel trailer with style. See all campers.
Via DesignBoom
Photos: Zach Both