This unusual structure is an addition to the owner's existing home. The polycarbonate clad extension functions as a studio space for a British artist living in Spain.
The Barcelona-based studio, ERA Architects, were responsible for realizing the clients dream of an "indoor eco-system". They've dubbed the project "Casa Poly" thanks to its heavy use of the material.
The Casa Poly contains three levels, each of which is faced with polycarbonate sheeting, giving the space a greenhouse-like atmosphere. The translucent sheets ensure privacy is maintained, while also bathing the interior in lots of natural light.
Each level of the extension is connected to a garden space and overlooks a courtyard, complete with its own lemon tree. The interior spaces have been finished in bright green elements – be it the plants or the lush tiled flooring.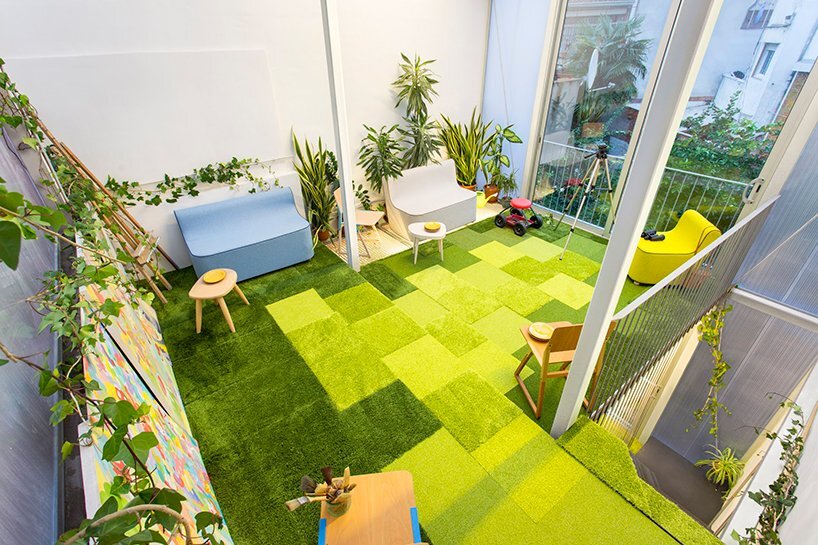 Because the cladding has relatively little thermal mass, it was important to regulate the internal temperatures. To achieve this, the ERA Architects turned to passive cooling and ventilation. Patio doors and windows provide plenty of opportunities for cross-ventilation, exhausting hot air when needed.
The top level of the Casa Poly is dedicated to an art studio. It features high ceilings, and lots of natural light streaming through from the roof and wall panels. It also sports a balcony to the front. From the architects: "Tis studio area opens up to a large balcony and is conceived as a greenhouse ecosystem with step-like platforms, coupled with green carpet to evoke a wild prairie."
For more spaces check out Studio For Two, a rooftop cabin composed of shipping containers. Or, Dragonfly Pavilion, a garden shed inspired by the wings of a dragonfly. See all spaces.
Via DesignBoom
Photos: Esteve Serra, Xavier Planas