This apartment in Mexico features a number of unique storage solutions that allow rooms to be transformed from one use to another. It's been designed by local architecture firm PKMN Architects as part of their "Little Big Houses" initiative. This project has been named Casa MJE.
The Little Big Houses initiative is aimed at maximising the living spaces of small residential properties. This apartment has been designed for a couple, Maria Jose and Enrique, so spend much of their time travelling throughout Europe.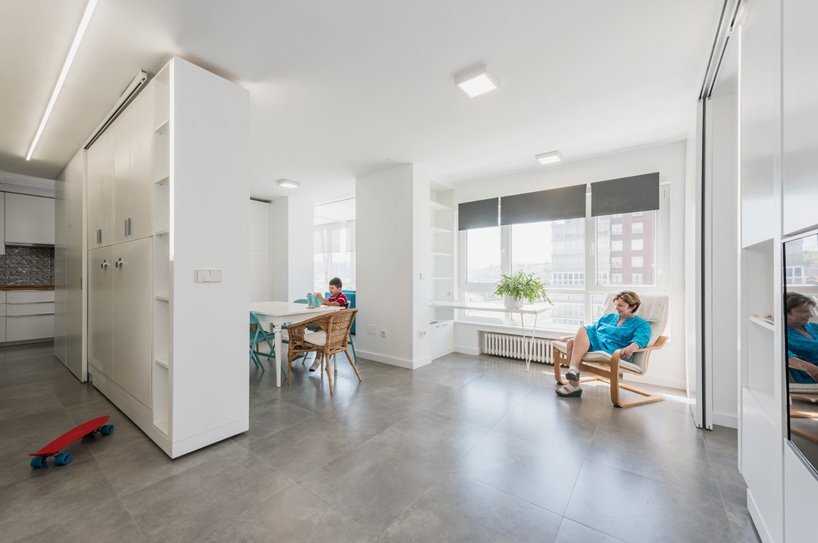 The apartment acts as a home not only to Marie and Enrique, but also their extended family, making it necessary to provide the space with the ability to add a few extra bedrooms. PKMN address this need by incorporating several wall-beds into the partition wall/storage units.
Another feature of the home is the central rotating storage unit. It can be used to redefine the rooms, for example it can create an extension of the living room, or be swivelled 90 degrees to create a more private space for use as a bedroom. The living room wall is also rotatable for a similar effect.
Due to the rotating walls being placed toward the center of the floor plan, other areas like the kitchen, bathroom and closets can be found along the perimeter walls. The kitchen is a simple galley set-up, and lies adjacent to the bathroom, allowing the designers to house the plumbing in a central location.
Casa MJE is lit by a series of floor to ceiling windows and patio doors that lead out to a number of small verandas. The natural light combined with the white furnishings and walls help create a very bright, minimalist interior.
For more apartments check out this 55 square meter apartment in Tel Aviv. Or, Batipin Flat which also makes use of hide-away furniture and multifunctional rooms. See all apartments.
Via DesignBoom
Photos: Javier de Paz García