Christi Azevedo is no stranger to working on small projects of historical significance – just last week we posted about her fantastic boiler room conversion to a tiny guest house. This week, we're sharing her work on the restoration of a dilapidated carriage house in Oakland.
The carriage house was originally built in 1908, and was in need of a serious makeover. Azevdo took care to maintain as much of the house's character as possible. The end result of her (and her friend and acquaintances) endeavours is this cosy 360-square-foot home.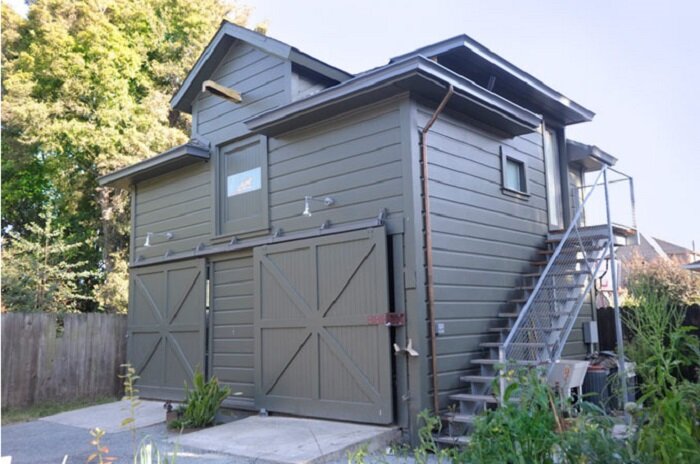 The house contains elements of Azevedo's trademark industrial-esque design features. The interior is a bright, open plan space. The lack of natural light is countered by the white color palette of the walls and ceiling.
Smart and effective living areas are left open to one another, defined by their furniture as opposed to walls. The kitchen nook contains the essentials, a sink, fridge, storage and a pull-out microwave/cooktop. A modest dining table provides a space for eating, as well as working.
Use of stainless steel has been made in both the kitchen (counter-top) and bathroom areas. The bathroom features a walk-in shower, partitioned off from the main living space by frosted glass – perhaps not for the slight of heart.
As with the boiler room conversion, the carriage house restoration was carried out with the help of family, friends and beer (and hard work).
For more tiny houses check out Blob – an unusual mirco-home surrounded by storage. Or this cool micro-housing unit from Tengbom architects.
Via Remodelista & Dwell
Photos: Susanne Friedrich and Henry DeFauw