This contemporary micro cabin is set along the lakeside in Cape Russell, Tennessee. The aptly named getaway – Cape Russell Retreat – has been designed by local studio, Sanders Pace Architecture, and it operates independently of the water and electrical grid.
The retreat is just 176 square feet (16.3 square meters) in size and was completed in the spring of 2009. The structure is composed of a steel frame that's clad in cedar, and features a butterfly roof. The roof is used to collect rainwater which is stored in a tank to the side of the building.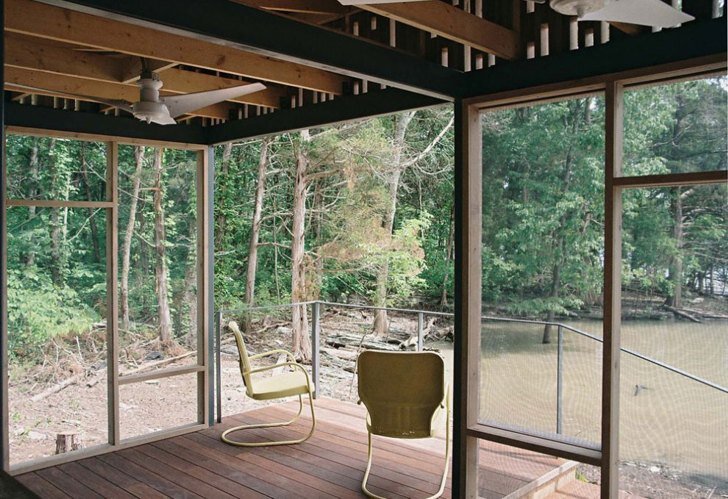 Cape Russell Retreat doesn't feature any insulation, and the cladding system itself is left open to the exterior. The simplicity of the building envelope reinforces the idea that it's to be used as a weekend getaway only. It also helps to develop a connection with the surrounding woodlands.
The front and side walls are separated from the outside by an insect screen. On the inside there's a small kitchenette and living area. There's also a storage/sleeping area which contains batteries used to store electricity generated from solar panels on the roof.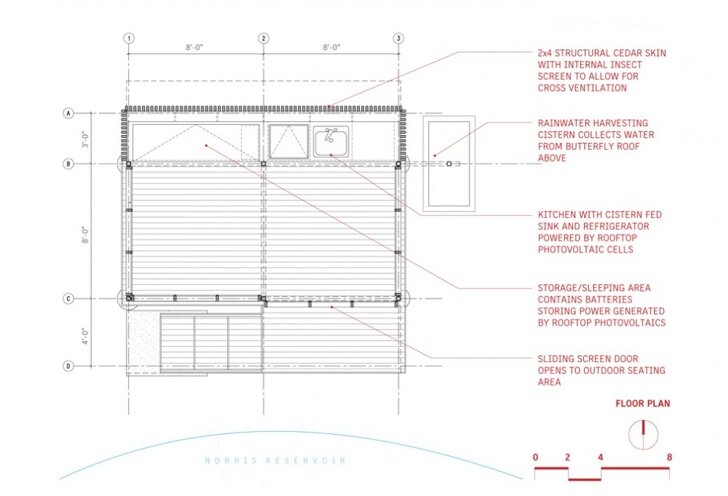 The kitchen contains a small sink and refrigerator (powered by the solar panels). Water from the roof that's been gathered in the 400 gallon storage tank is treated with a carbon, and UV filter to make it suitable for drinking, and washing in the outdoor shower. If that isn't enough, there's a small exterior deck for lounging in the sun.
For more off-grid buildings check out Mason St Peters cabin that's made completely of reclaimed materials. Or, this tiny retreat by Moxon Architects in England that hangs over a river. See all off-grid retreats.
Via Inhabitat
Photos: Sanders Pace Architecture