This small studio has been created by architect Christian Tonko on the behalf of an artist. The owner needed a space where they could paint and sculpt. The building, called Camera Lucida, is designed to cater for this need, as well as providing varying light conditions under which the owner can work.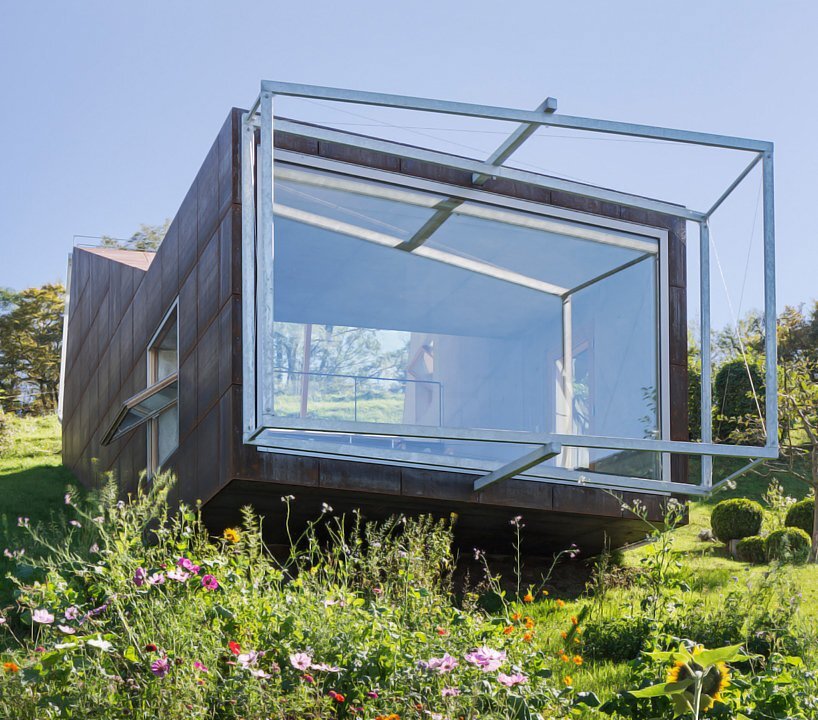 The structure is built into the hillside, with the rear end of the building matching the hill's slope and the front end jutting out off of the ground surface. Both gable ends feature large windows that capture views of both the town below, and the landscape to the back.
Camera Lucida has an industrial aesthetic from the outside with its Cortens steel sheet cladding and galvanized framing to the front. The interior is quite stark with bare concrete walls. The wood window frames however, do provide some relief from the minimalist finish.
There are two levels in the building, an upper portion that's intended to be used as a workplace for sketching and small water colours. The lower level, which is larger, is designed for larger canvases and sculptures. The main floor looks out over the Rhine Valley and the view is framed by the galvanized steel structure to the front.
To regulate light intake from the back of the building (which is southward facing) an exterior screen system is employed, allowing the owner to control and filter out light as needed. The steel framing to the front also allows the artist to hang bronze pieces in front of the glass, a feature aims to provide a point of reflection. Personally, I think it would be a distraction from the view.
When designing Camera Lucida, Tonko had to take into account the existing residential buildings nearby, height restrictions, and, of course, it's hillside location.
For more studios check out this rotating shed that's been designed by furniture maker Nathalie de Leval. Or, this garden shed from the Netherlands that doubles as a guest house. See all studios.
Via DesignBoom
Photos: Eduard Hueber