This small cabin in Norway has been designed by the architecture firm Hamran/Johansen Arkitekter. The cabin has been created for a large family and required 9 beds to cater for everyone. The architects have named it Cabin Laksvatn.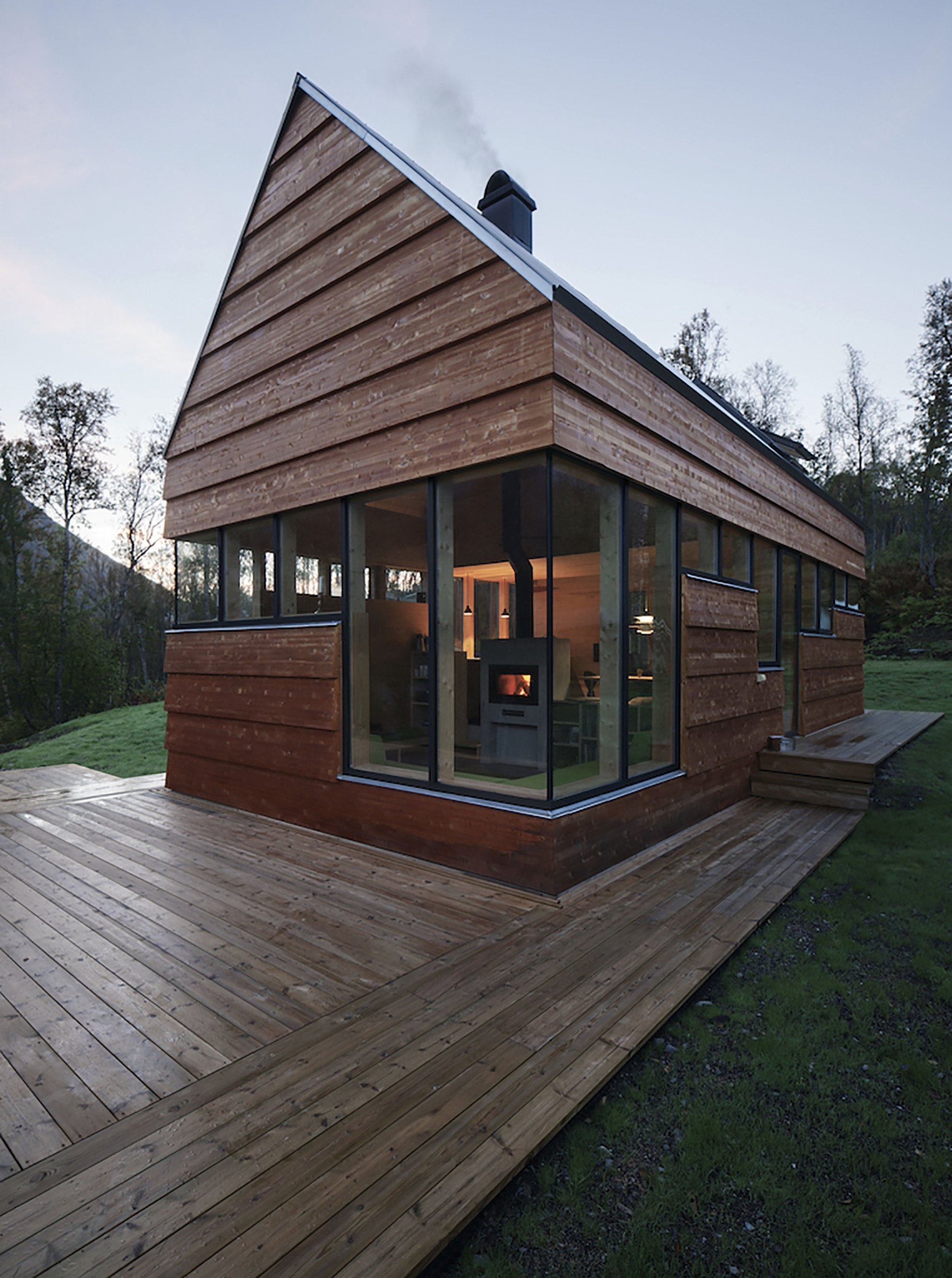 The 538 square foot (50 square meter) retreat is set on the edge of the Lyngen peninsula in Troms, and looks out over a mountainous alpine landscape. With only a modest budget the design of the cabin became all the more important, particularly due to its size, which allowed the owners to by-pass certain regulations.
By incorporating the sleeping areas under the pitched roof they were able to exclude this space this from the overall area of the home. The loft is able to accommodate three single and two double beds, all within a space that measures just 151 square feet (14 square meters).
From the outside the cabin is a mix of traditional and contemporary design. Its overall form is that of the quintessential cabin, but the extra wide planks of cladding, and the large windows help give it a modern feel. The inside follows the same principle; it's fitted out with modern appliances and furnishings, but features walls and ceilings finished in knot-free pine panels.
The ground floor contains a living room, dining area, and kitchen. The homes bathroom can be found beyond the kitchen, partitioned off from the main living space. On this level there's also another double bed squeezed into the living room, and another is located opposite the bathroom.
Separating the living room and kitchen is a large double-sided fireplace, ensuring you're kept warm even in the harsh Norwegian winters. The staircase to the upper level is a made of cantilevered steel sheets, making a minimal impact the space.
For more cabins check out this hexagonal house that's built on a hilltop in Czech Republic. Or, this rustic retreat in Wisconsin that features all-glass walls. See all cabins.
Via ArchDaily
Photos: Ivan Brodey, André Severin Johansen