This small timber-clad structure is actually a sauna that's been designed by the Stockholm based studio Murman Arkitekter. Called Brenner Bastu (Brenner Sauna), the retreat is set on the edge of a jetty in Saltsjöbaden, a resort found not far from Stockholm.
The unusual structure features two "wings" that are inspired by a nearby bathhouse designed by Torben Grut. The bathhouse features a V-shaped structure that opens up to the water, something which they've replicated here with Brenner Bastu's form: "The shape of the plan is found… in the bathhouse, but it is also a result of site conditions at the pier and rock."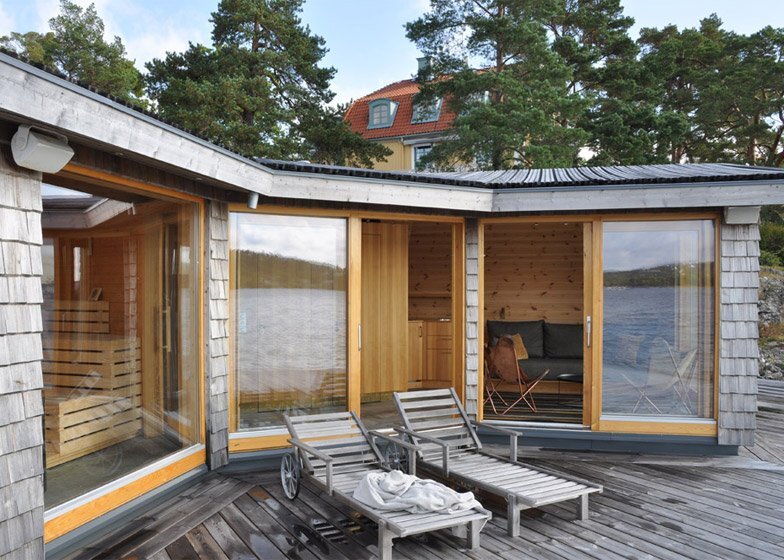 The clients imposed two main conditions for the design of the sauna. The first being that it wouldn't be visible from the main building, (a Villa set further back from the water) and that it provide views overlooking the Baltic Sea and evening sun.
The project makes heavy use of timber, both inside and out. Planks of pine were sourced locally and used to clad the roof and walls of the sauna. A traditional Swedish technique called Faltak was used on the roof, whereas square shingles have been installed on the front face of the building.
Its angular shape wraps around a small exterior deck to the front. On the inside the walls and roof have been lined with yet more pine wood. The floors have been finished with rectangular grey slate tiles, making for a welcome break from all the wood.
It contains a rather large sauna on the left-hand-side of the building, and a small kitchenette, bathroom and living area occupy the other portion. It's easy to see how this little structure could be modified to create a small, but cozy house – just get rid of the sauna and use it as a bedroom.
For more retreats check out this modern little cabin in Utrecht by Zecc. Or, this unusual underwater getaway called "Sleep with the Fishes". See all retreats.
Via Dezeen
Photos: Åke E:son Lindman, Murman Architects