It's great to see projects coming full circle, from concept to reality. I first posted about this ingenious design by H&P Architects back in April of 2013 (you can read the original post here). Since then H&P have completed their first floating bamboo home, aptly named "blooming bamboo home".
In this particular region of Vietnam locals houses are often destroyed due to flooding and natural disasters. In response to this crisis, H&P produced a concept home that sits above the ground level and can actually float to avoid damage due to water ingress.
The house features a range of sustainable practices and elements. The entire home is constructed from bamboo, a plentiful, fast growing grass that can be found locally. The use of an indigenous material promotes traditional trade and construction practices.
It's also a modular dwelling and can be extended to meet the needs of a larger family. The interior contains a large multifunctional space that can be used for a variety of purposes beyond that of the typical home. For example, it could be used as a space to provide educational or medicinal facilities.
There are elements of passive heating and cooling evident in the design – the roof contains sections that can be opened or closed depending on the weather. They also act as a light source for the upper level of the home. Other sections of the house can be "opened-up" as well; there are several fold down exterior decks, and patio doors. Again, encouraging the flow of air throughout the home.
The first floor contains the main mechanical areas of the home, bathroom and kitchen, and the main living and dining areas. The layout is very flexible and allows you to create bedrooms on the first floor, or in loft space. In terms of dimensions, it's just 6.6 by 3.3 meters (21′ x 11′), which seems reasonable given that it's designed for 6 people. The current home is capable of resisting a 1.5 m (5′) flood, however they're currently testing it to see how it will cope with 3m (10′) flood. Pretty amazing for a structure that's held together by "bolting, binding, and hanging".
One of my favorite aspects is the "living wall", or vertical garden. The exterior walls feature bamboo planters that make use of rainwater run-off. They also intend to make use of rainwater harvesting for any periods of drought.
From the architects:
"The structure's framework is made from small bamboo pieces, fiberboard and coconut leafs, which can be finished with cladding that suits its local climate and regional materials, offering an adaptable piece of vernacular architecture. The flexible building is able to be mass produced and can be constructed by its users in just 25 days… offering an affordable solution for housing… It also engages local communities with their culture and vernacular architecture."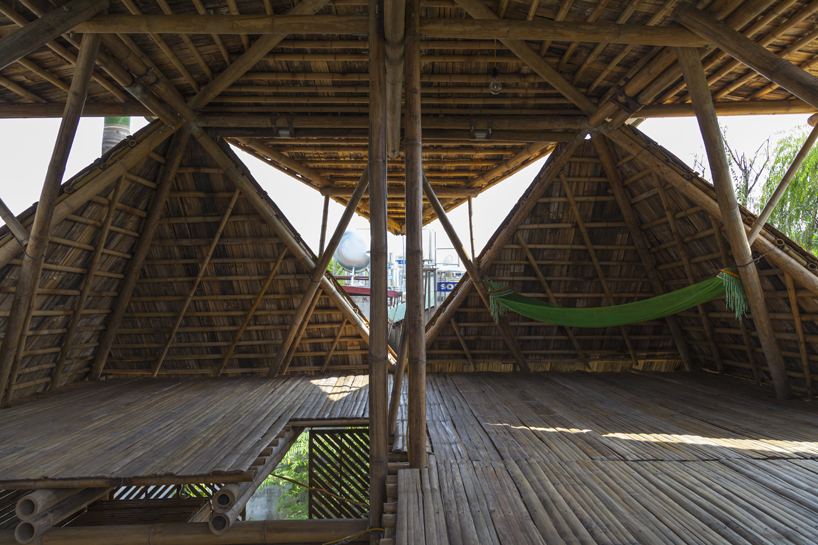 This house, like all houses constructed predominately with natural materials, strikes a chord with our back-to-basics sensibilities. It's a humble home that's been beautifully designed and constructed with a minimal carbon footprint. If I lived in Vietnam, I would sign up for one of these homes in a heartbeat. How much does it cost? Just $2000 when mass produced. Awesome.
For more bamboo buildings check out these fabulous prefab housing units in Thailand, or these awesome earth bag homes by Konbit in Haiti. See all natural building.
Via DesignBoom