Set within one of Tokyo's built up residential neighborhoods, this strikingly modern house is home to a newly married couple.
The house has been designed by the firm Blemen Architects, who have also dubbed the project Blemen House. The project was completed in 2016 and is set on a 461-square-foot (43 square meters) site.
In large citys like Tokyo people often find themselves priced out of the city center. Instead, they opt for the suburbs, settling for homes placed next to train stations and subways. Unfortunately, these suburban areas with good access to commuting routes have also spiked in price, forcing people to further compromise. In this case, the couple compromised on size.
Most houses in the area opt for maximum floor areas. This results in the homes resembling a cube, and without much difference in exterior finishes, they become a continuum of boring "that'll do" architecture. Hoping to break this mundane pattern, Blemen created a more modern form, finished with contemporary cladding.
The interior of the home is as unusual as the exterior. The walls and ceiling are covered with plywood sheeting. The living area on the second floor, reveals an unusual angular roof structure that's not apparent from the front of the home. Much of the structure is laid bare – steel joists and floor panels are on show.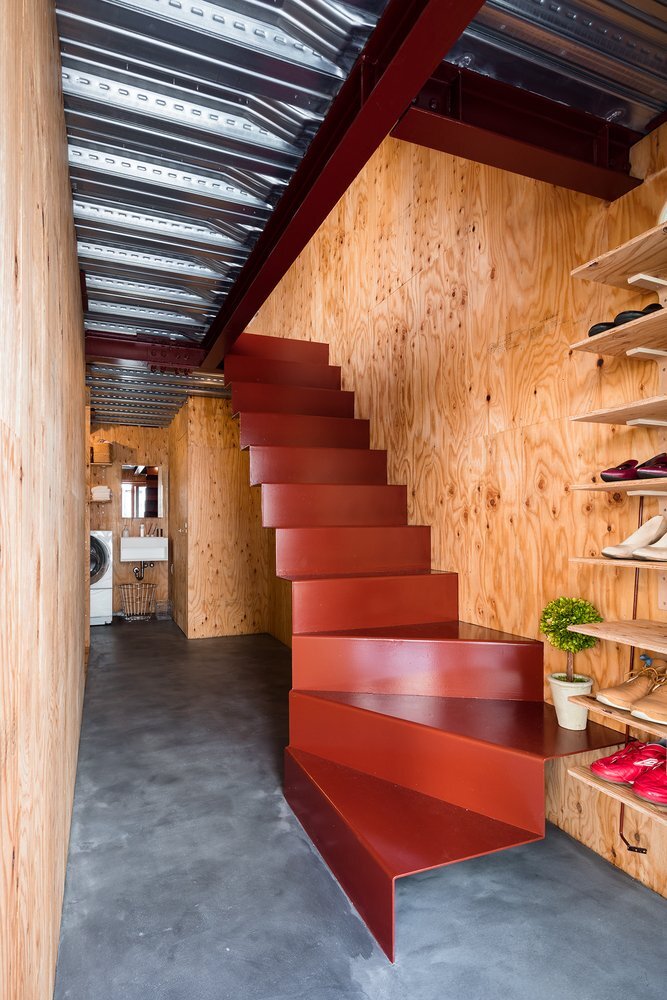 A storage area, found at the very top of the home, has been created from steel beams and a metal mesh. The mesh allows light to travel down to the other living areas, while also acting as a floor surface when necessary. It all adds up to a very utilitarian aesthetic, but it's softened by the presence of the furnishings and other possessions.
The first floor contains an entrance hallway with a separate toilet, washroom and bathroom to the back. The next floor up serves as an open plan living area with the living room, dining room and kitchen all laid out in a single space. This floor also has access to a small balcony to the front. The final level is a mezzanine that overlooks the living room and contains the home's only bedroom.
For more Japanese houses check out the Wood House by a prefab home by Muji. Or, this small home from Tokyo that's surrounded by by high-rise buildings. See all Japanese houses.
Via ArchDaily
Photos: Norihito Yamauchi