It seems that there's no end to the potential uses of shipping containers. This particular container was converted into a sales gallery for country club in Argentina.
The redesign and conversion was taken on by the architecture firm B.AP. The project forms part of a large residential and leisure development, and the container is a temporary hub for all things related to their sales.
Based on Córdoba, and overlooking the future development site, the architects state that it tries to blend in with the landscape as much as possible. Honestly though, the container itself sticks out like a sore thumb, but it's partially masked by trees, boulders and patches of long grass.
The container has been sliced up and opened to create expansive openings. The longitudinal walls now feature plenty of glazing and sliding patio doors. The front of the unit has also been landscaped; you'll find both sides flanked by stone terraces that aim to create an area for relaxation.
On the inside, they haven't bothered to infill the walls and ceiling. Instead, the steel shell is simply covered with drapes and white wood panels. Seeing as it's not going to be used as a home, there was no need to introduce stud walls, insulation and drywall. It's a quick, cheap alternative.
In terms of spaces the container isn't that far off from a home. A small section to one end of the unit contains a kitchenette and bathroom. Beyond this you're into the main room, which is furnished a lounge at the opposite end, and set of rustic chairs and a desk placed in between.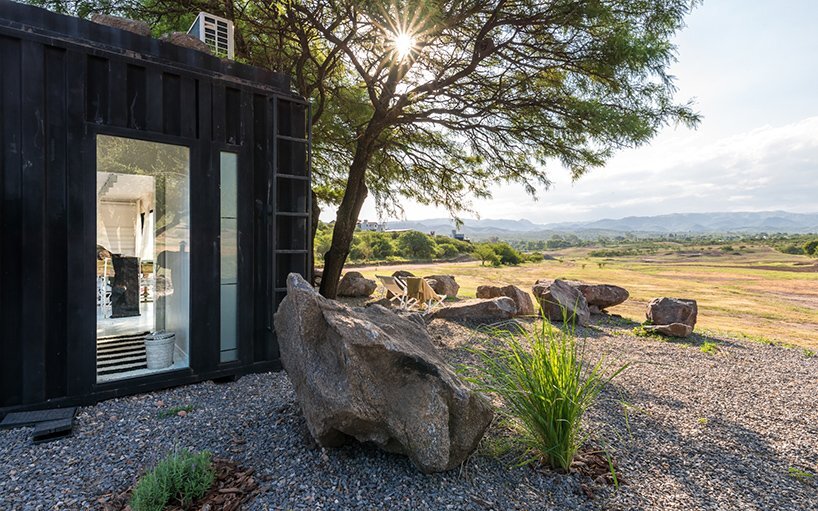 Track lighting has been used to keep the space bright once dusk sets in. For heating, a simple AC unit has been mounted on the boundary wall between the kitchen and main room. While this project isn't a home, it does have some interesting ideas as to how little you might be able to get by with, particularly if you just want to create a retreat.
For more containers check out Eco Villiage, a family home constructed from shipping containers. Or, Scandic To Go, a shipping container hotel. See all containers.
Via DesignBoom
Photos: Gonzalo Viramonte