This multifunctional studio in Tel Aviv has undergone a transformation from a cramped apartment to a versatile and functional workspace. The redesign was carried out Israeli architects Raanan Stern and Shany Tal.
The workspace is just 20 square meters (215 square feet) in size, but manages to fit in a host of storage options, as well as a hidden bed. The transformable interior is used to house a collection of 2D art pieces dating back to the 1940's, all the way up to today.
One wall of the studio is dedicated entirely to storage, with cabinets from the floor to the ceiling. Maximising the available vertical wall space has allowed the designers to retain a sense of openness in a compact room.
The storage cabinets were designed with specific items in mind, with four main sizes identified for each cell, cupboard and drawer. The artwork was then organized and allocated a storage space depending according to its size and artistic connections.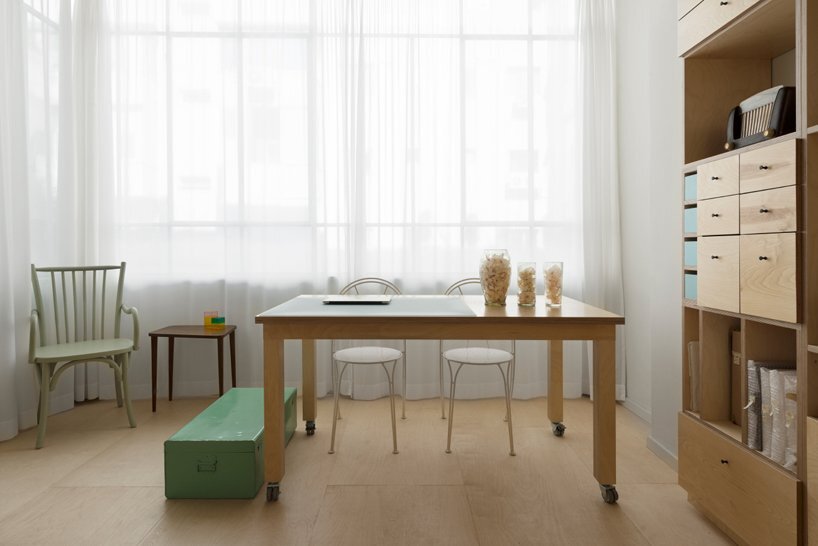 The studio also contains areas that have been created solely for displaying the work, allowing it to act as a private gallery. The sliding doors, which are actually made from pallets, can be removed and used as presentation boards or easels. Another neat touch, the interior of the drawers are lined with mosaic tiles. The colorful interior is only being revealed once the drawer is opened, a playful element in an otherwise functional design.
Behind the sliding doors you'll find a folding bed, which can be pulled out whenever you plan on working late into the night. The closets and the floor are made from white birch that's been finished with a light coating to give a "delicate feeling, while still retaining the organic look of the natural material."
For more studio spaces check out the Hackney Shed – a simple garden studio in London by Office Sian. Or this garden room by 3rdSpace Architects that's used as a garden library. See all studios.
Via DesignBoom
Photos: Raanan Stern