While there aren't any solid figures, it seems that the majority of tiny housers are made up of millenials hoping to escape the trappings of a mortgage.
But Jody and Bill Brady of Simply Enough decided on a mid-life upheaval after examining their finances and discovering their 3,500-square-foot home owned them, and not the other way around.
Their tiny house is set into the side of a hill in the Blue Ridge Mountains of Virginia. It's approximately 12-by-21 feet in size (3.6-by-6.4 meters), giving it a total area of 250-square-feet (23-square-meters). It contains no less than 7 large windows and two glazed entrance doors, creating a bright and airy interior.
From the couple's website, Simply Enough: "We're a couple in our 50's who decided we wanted to 'rightsize' our lives. We sold our big house and invested the profits in ourselves: we quit our jobs, did a lot of research and then designed and built our own 250-square-foot house in the Blue Ridge Mountains of Virginia."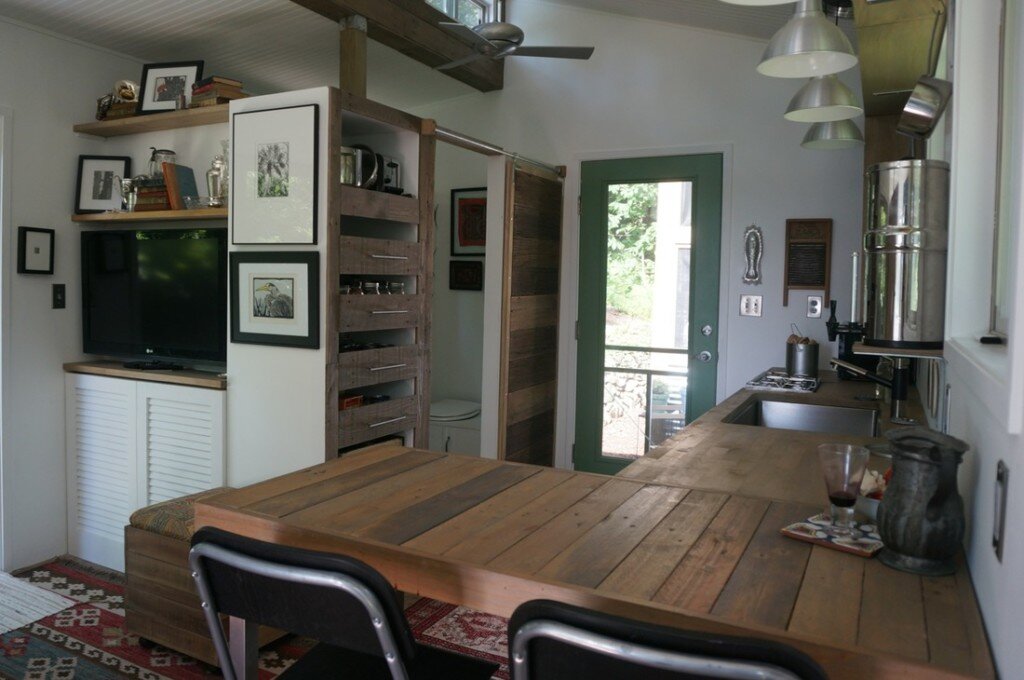 The result of their efforts is a beautifully crafted tiny house made with – when possible – reclaimed materials. They've incorporated barn and pallet wood throughout, both for the construction of the home and the interior decor and furniture. The kitchen is built from a combination of pallet wood and elements from Ikea (like the pendant ceiling lights).
The galley kitchen leads into a small breakfast bar at its end, while a relatively large bathroom can be found opposite it. After the kitchen/breakfast bar, the house opens up to a small but cozy living room. The final room of the house is the bedroom, which comes complete with a clothes closet.
The exterior surroundings play a large part in this design; the house features a generous wrap-around deck. It's the perfect spot for relaxing and soaking up the view. There's also a vegetable garden and a separate 160-square-foot (15-square-meters) screened shelter that's intended for entertaining guests, whatever the weather.
For more tiny houses check out the Tiny Ski Lodge by Extreme Living Solutions. Or, Jyubako, a basic tiny house on wheels by Kengo Kuma. See all tiny houses.
Via TreeHugger
Photos: Simply Enough