This tiny farmhouse was once used to shelter animals and shepherds, but more recently it's been converted into an off-grid retreat. The building is located in the region of Tufi d'Agna, Italy, and is set on a mountainside in the town of Corniglio.
The restoration and conversion was undertaken by a local architecture firm called Studio Contini. The firm has previous experience in restoring buildings of cultural importance.
The farmhouse is now used as a holiday home during the summer months. The project has simply been dubbed "Cottage Restoration" by the architects, and contains two floors with a wooden portico to the side. It contains a total area of 732 square feet (68 square meters).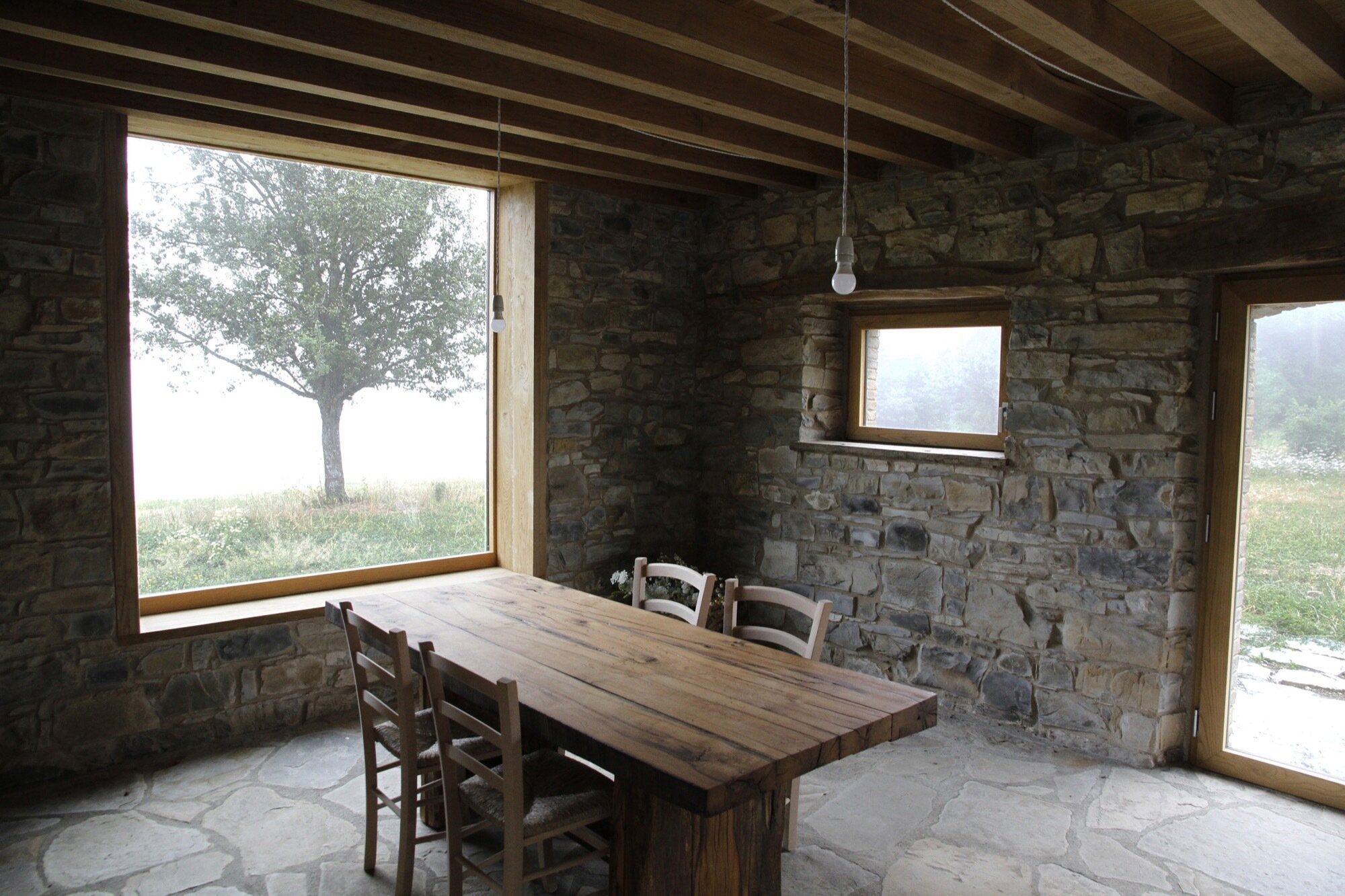 The cottage had been abandoned for many years and was in a severe state of disrepair. The stonework and rustic timber beams form the original character of the home. Unfortunately, like the rest of the building, they needed a lot of work to bring them back up to standard. They've been carefully repaired or replaced and repointed in places.
In other areas they've introduced new openings to accommodate large windows, which draw in enough natural light to maintain a bright interior, despite the dark finishes found elsewhere. During the renovation process they decided to create a totally off-grid home (possibly in part due to its rural location).
A solar panel array was incorporated into the roof of the portico. It consists of 12 PV panels connected to 8 storage batteries. The system is able to power the lighting, induction cooker, water heater and even some electric heaters if needed. The heating is supplemented by a 6.5 kW wood stove.
The first floor of the house contains a kitchen and a living/dining room. To the back there's a small bathroom. A flight of stairs takes you to the loft which is used as a bedroom. There are two double beds in total, both looking out at the surrounding landscape through a series of picture windows.
Via ArchDaily
Photos: Studio Contini