Boat maker Jeff Hobbs is no stranger to construction, and in his latest project he's applied his skills to creating an eco-friendly tiny house on wheels. The house was built for the website Living Big in a Tiny House and features a host of on-board renewable systems.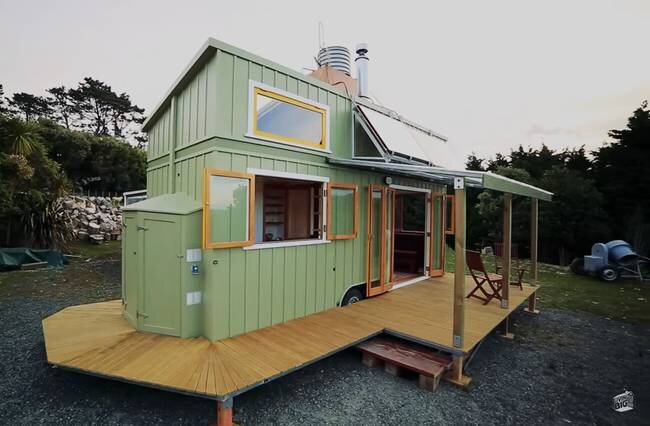 The structure of the house is made from Structural Insulated Panels, or SIPs. SIP technology has been around for quite some time, however it's only been applied to tiny houses in the last few years. They're a lightweight, better insulated, alternative to the more common strick-frame construction.
The house is powered by a 600-watt solar panel array that should provide for the occupants day-to-day electrical needs. Water is heated by a solar collector, as well as a wood-burning stove, and rainwater run-off is also stored through the use of a rainwater catchment system.
The first floor of the house contains the living room, kitchen and toilet. The living room makes use of a modular sofa system that can be converted into an extra sleeping space. There's also a study nook placed at the end of the living room, opposite the staircase.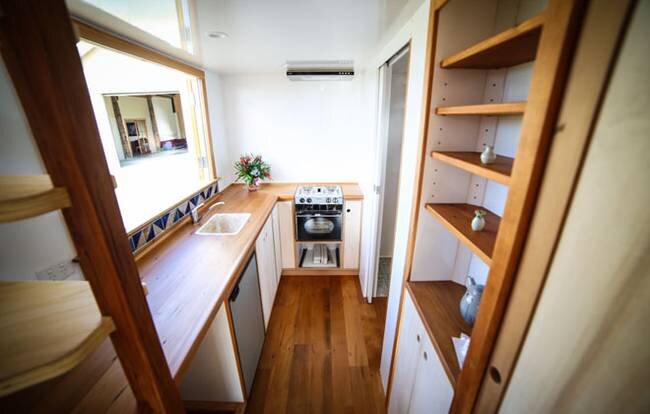 The stairs lead up to a small, but relatively spacious by tiny house standards, sleeping loft. The house contains (from what I can see) nine large windows and skylights. All those windows help to make the tiny house feel larger by introducing more natural light and providing views beyond the home's four walls.
Unlike a lot of tiny houses, this one includes a spot for laundry, located in the exterior kicker box. The cost to build the house was in the region of $77,000. However, now that Hobbs has completed one house, he feels he'll be able to get through the process more quickly, reducing the price of future homes.
For more tiny houses check out the LifePod, a 112 square foot tiny house that costs $15,000. Or, Porta Palace, a contemporary tiny house on wheels by Daniel Venneman and Jelte Glas. See all tiny houses.
Via TreeHugger
Photos: Living Big in a Tiny House