Located in Budapest, Hungary, this micro-apartment has been built with the intention of providing travellers with a memorable experience. It's been designed by a local design firm who go by the name of The Position Collective. They named the project AIRBN'P.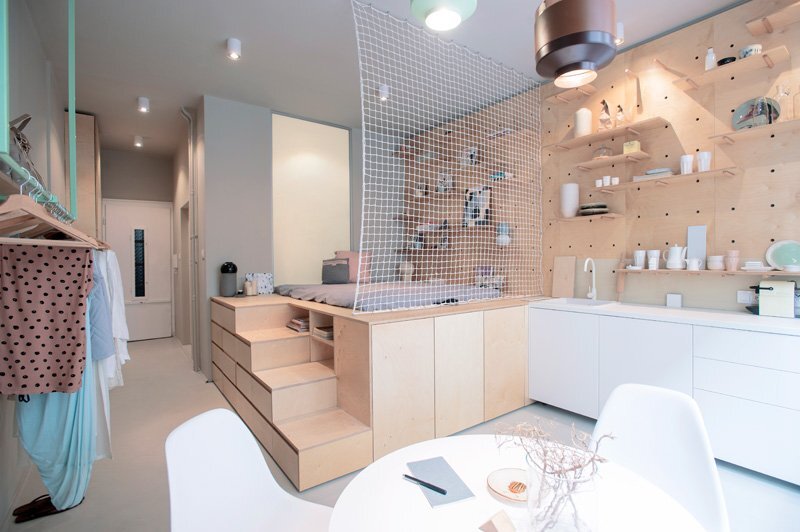 The apartment has a contemporary feel to it with its white walls, wooden furniture pieces and splashes of pastel colors. It's been divided up into two main rooms: an open plan living space and a bathroom. The living space accommodates a kitchen, dining area and bedroom.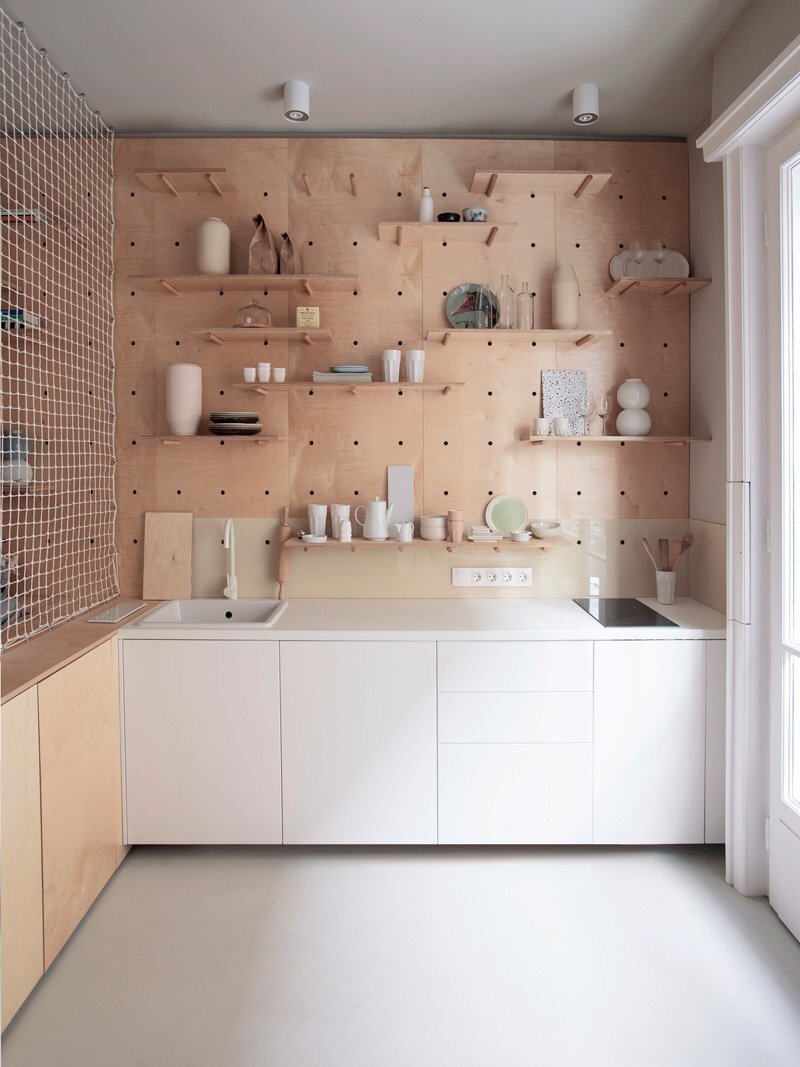 The back wall of the property is clad in wood panelling with a series of holes cut through the surface at regular intervals. Using pegs, you can create shelving at any height, length or variation. It's a smart simple system that allows the occupants to arrange the shelving as they see fit.
The bedroom is distinguished from the main living space by setting it on a raised platform. The underside of the platform serves as storage space, creating more shelves, drawers and cabinets than most visitors could ever need. A net is hung from the ceiling to emphasise the separation from the kitchen.
Instead of having a normal clothes closet, they've opted for a rail that's hung from the ceiling and fastened to the wall. This has the advantage of not breaking up the living area as much and allowing more light to pass through down to the entryway.
The bathroom is a crisp, bright room finished in white tiles with grey grout. There's a spacious walk-in shower, toilet, sink and storage. There's also light diffusing panel that faces outwards to the main living area, allowing it to receive some natural light.
For more apartments check out New York's first micro-apartment development that's been completed by Stage 3 Properties. Or, this historic Parisian apartment that gets a fresh new look by Project Sabo. See all apartments.