This apartment interior has been designed by Russian architecture firm Ruetemple on the behalf it's owner, a young man. The apartment block is a new build and is set in the vibrant city of Moscow.
Being a new build, the apartment shell came without any of the partition or load-bearing walls that so frequently interrupt the floor plan in other projects. Thanks to this, they were completely free to kit out the interior as they seen fit.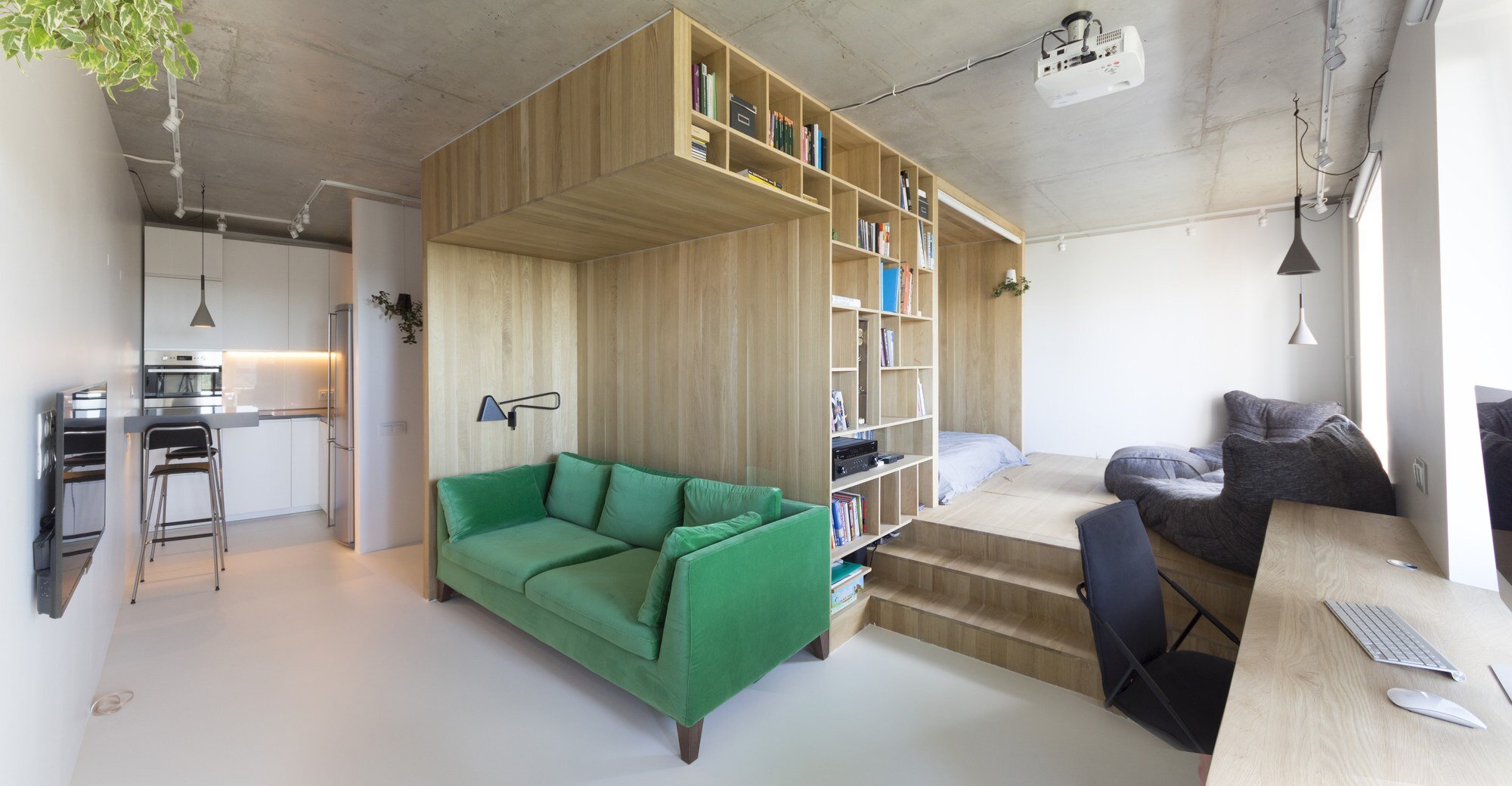 The project, dubbed Gorki by the architects, has a footprint of 506 square feet (47 square meters) and was completed in 2016. The small footprint led the architects to adopt an open flowing layout where components could be inserted to create the individual living rooms.
From the architects: "Not wanting to construct any solid partitions, resulted in the idea of creating some volume in the center of the apartment, which would be multifunctional, and simultaneously enable the transparency and freedom to be retained." The rest of the home then revolves around this central volume, and is split into a number of zones.
The floor plan goes in a loop – the entrance leads through to a hallway that provides access to the bathroom and kitchen on the right. The hallway then gives way to the living room and study area towards the back of the unit. This is then followed by a raised platform that contains the bedroom before leading out to the entrance again.
Wood is the material of choice for the majority of redesign, elsewhere they've tried to counteract it with muted tones: "As wood is a rather active material in terms of color and texture, the remaining space has been designed using calm colors." The entire apartment is lit by two large windows to the front. One of the windows contains a patio door leading out to a small balcony.
For more small apartments check out this property from China that features a mix of traditional and contemporary design. Or, Casa MA, a Madrid apartment that gets a modern makeover by Pyo Arquitectos. See all apartments.