Designed by Japanese firm Hiroshi Nakamura Architects, this small house acts as a weekend retreat for the owners who work in the city during the week. The house is built with a number of locally available natural materials and features an amazing green roof.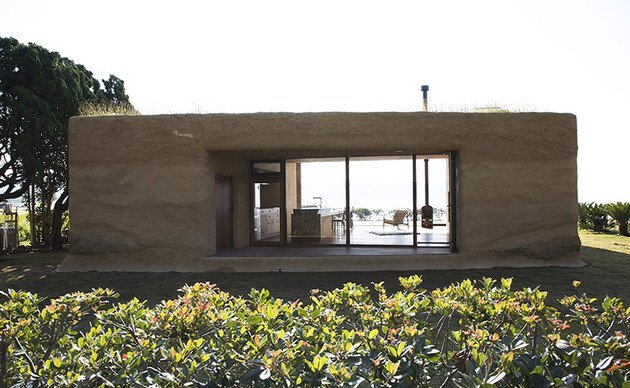 Referred to by the architects as "The Living Grass Roof House", it's set on the coast of the Boso Peninsula in Japan. The house attempts to cross the divide between man-made and natural surroundings, which it does through its green roof and unusual exterior.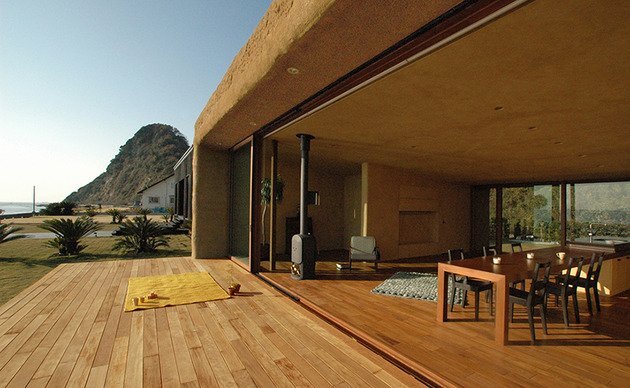 The structure of the retreat is actually composed of concrete, but due to its proximity to the coast the it had to be protected from chloride in the sea water. The solution came in the form of local soil from the building site mixed with a resin and cement. The mix was then applied to the concrete structure by the owners.
The exterior finish gives the retreat a much more "earthy" appearance, and it would be easy to mistake it for a cob building. Unlike the outside, the interior is a modern contemporary home. Both the front and back faces of the house feature floor-to-ceiling glazing that provide amazing views of the peninsula's coastline. They can also be used to open up the central living area almost entirely.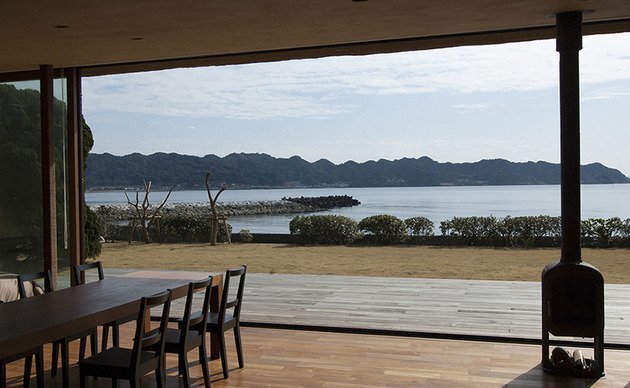 Unfortunately there's no floor plan available, but from what we can see, the house features an open plan living room, dining area and kitchen. One end of the retreat presumably contains the family bathroom, while the other is likely to feature a few bedrooms.
The roof makes use of the same soil applied to the walls. Unlike some green roofs this one was seeded, making it a true green roof (others simply are simply finished with the hardy sedum plant), bursting with the local flora and further establishing its link between the natural and man-made.
For more Japanese Houses check out this cool, and very narrow contemporary home. Or, The Near House, another small house that's been slotted into a narrow lot. See all Japanese Houses.
Via Trendir
Photos: Hiroshi Nakamura Architects