Renzo Piano, an Italian architect, has just completed his tiny house designed for one person. Called the Diogene after an ascetic Greek philosopher, the house contains just enough space for one person.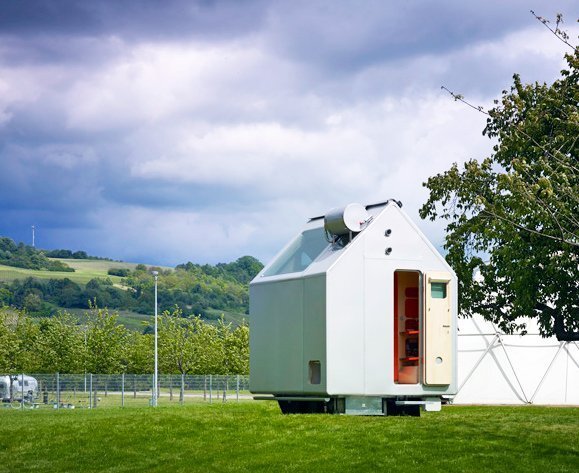 Built on the Vitra Campus in Weil-am-Rhein, Germany, the tiny house has an interior footprint of just 80-square-feet. That's enough space for a bed, chair, and table, as well as what appears to be a bathroom and kitchen.
This tiny house has been in the works for a long time – Piano started developing plans for a minimalist micro home over ten years ago. The concept of the tiny house has been with him sicnce his student days, and since then he has been slow but surely refining the design. The end result of his endeavours is this two-by-two meter cabin that acts as "a voluntary place of retreat".
The main structure of composed of wood, clad with aluminium sheeting. The interior features a pull-out sofa and a folding talble stored neatly below the window. A partition wall separates the living space from the bathroom and kitchen.
On the outside you can see the renewable energy systems Renzo decided to employ. It contains both photovoltaic panels, and a solar hot water system. The micro home also sports a recessed skylight that provides ample natural lighting and ventilation. It's size allows it to be loaded on to a truck and transported to wherever your heart desires.
Renzo has suggested a number of possible usings for the tiny dwelling including an office, hotel cottage, or a retreat. "Diogene is so small that it functions as the ideal retreat, but purposely does not cater for all needs to the same extent. Communication, for instance, will take place elsewhere – and thus Diogene also invites you to redefine the relationship between the individual and society."
Via Co. Design