The Dutch architecture firm Zecc teamed up with interior designer Roel van Norel to convert what was originally a tiny garden house into this contemporary retreat. Set in the countryside of Utrecht, the project has been dubbed "Holiday Outlying Utrecht".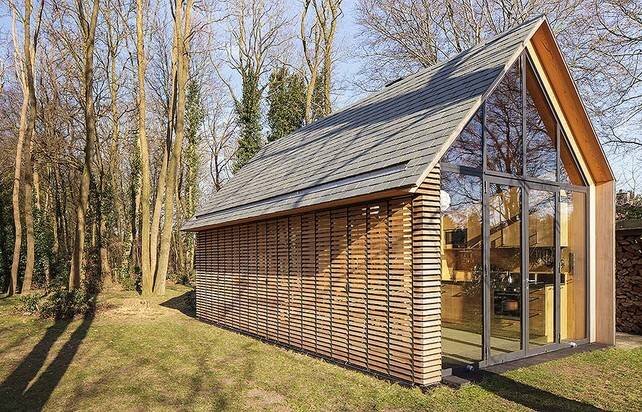 Over the course of two years, the existing structure was removed and replaced with the new summer house. The outside of the tiny retreat is clad with a mix of western red cedar and oak, while the roof is finished in slate. The house features two large glass walls which are hidden behind a series of pivoting, and retractable shutters.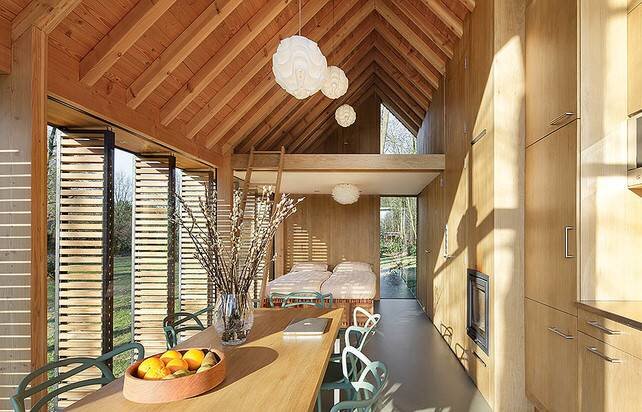 The shutters can be opened to provide views out over the green fields of the the Utrecht countryside. They also allow the occupants to introduce lots of natural light into the living spaces. In addition to this, the gable-end wall that provides entry to the tiny house also contains glazing from the floor to the roof apex.
The kitchen is located at the front end of the house, next to the entrance, with a dining area set opposite. The majority of the interior is a single open space. Further down the home there are two single beds, which can be separated from the other living spaces with sliding panels.
The bedroom features an en-suite with a separate toilet located just beyond the main bedroom area. The entire back wall features storage compartments along it's length, allowing the rest of the home to remain free of cabinetry units.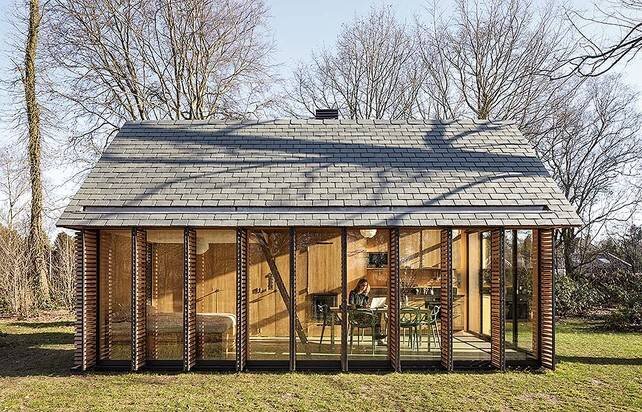 A small set of ladders leads up to a loft, although whether it's used as an extra sleeping space, or just for storage, is unclear. To keep the place warm on winter nights, there's a wood-burning stove built into the back wall. The contemporary finish throughout, combined with the natural light and views, make for a very cozy getaway.
For more retreats check out the Polygon Studio, a tiny guest house and artists studio. Or, this miner's outhouse that was converted into a tiny retreat by David Frazee. See all retreats.
Via Inhabitat
Photos: Zecc Architecten Utrecht