This London terrace recently received a makeover with the help of local firm, Fraher Architects. The project involved an extension to the property, as well as extensive interior works. The textured brickwork of the extension has lead it to be called the Brick House.
The house is set in north-west London within a conservation area. The architects decided to use a slate-grey brick instead of the yellow London stock brick that typifies the area, making the newer works immediately obvious. The face of the new walls also feature a faceted texture, giving them the look of much older brickwork.
All told, the house has three storey's including the basement. During the course of the renovation work, the basement was extended to accommodate a TV snug/living room. It acts as the homes main living area with a now open plan kitchen, dining and living room.
All partition walls were removed to create an open space, however the living room can be concertinaed off with the use of white shutters. The bathroom was also moved from the basement to the ground floor, which looks to feature two further rooms, both of which appear to functions as a home offices or studies.
The final level of the home contains the master bedroom with an en-suite, and a second bedroom. New windows have been introduced throughout, particularly in the extension where long slender skylights provide daylighting for the basement and bathroom above.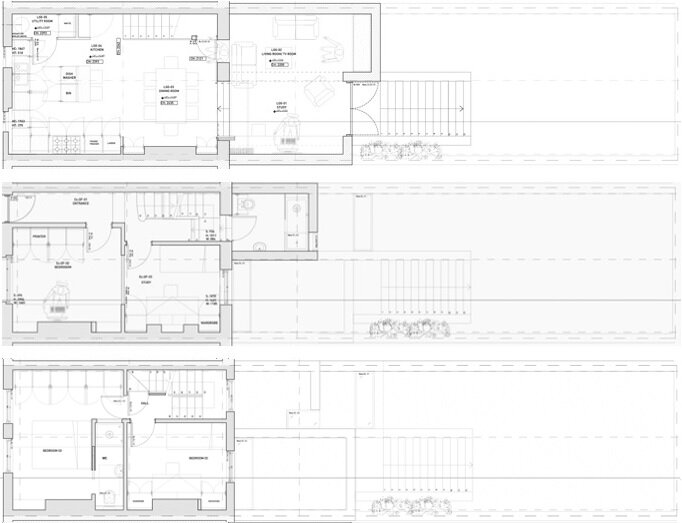 Whilst not shown, wildflowers were planted on the staggered roof to reduce the sharp brickwork edges when viewed from the upper levels. All in all, I think it's a pretty good redesign. It may not have the smallest of footprints, but it's certainly been successful in creating an environment that's comfortable for the occupants.
For more small houses check out this minimalist house set in the countryside of the Netherlands. Or, this small house in Australia by Edwards Moore architects.
Via Dezeen
Photos: Jack Hobhouse