This small summer house has been described by the architect as "a bit like a treehouse for adults". Created by Leo Qvarsebo for himself and his family, the summer house is set in Dalarna, Sweden, and features an interesting A-frame shape.
A series of large picture windows frame the views at different points throughout the house, which is set between a patch of woodland and a pasture. The front of the building opens up to a large timber deck that serves as an extra living space for the family during the summer months.
The triangular form has allowed Qvarsebo to incorporate a "climbing wall" – it contains a rope connected to the peak of the roof, allowing children and adults to scale the building. There are other smaller elements of fun incorporated into the build, like the two swings on the exterior deck.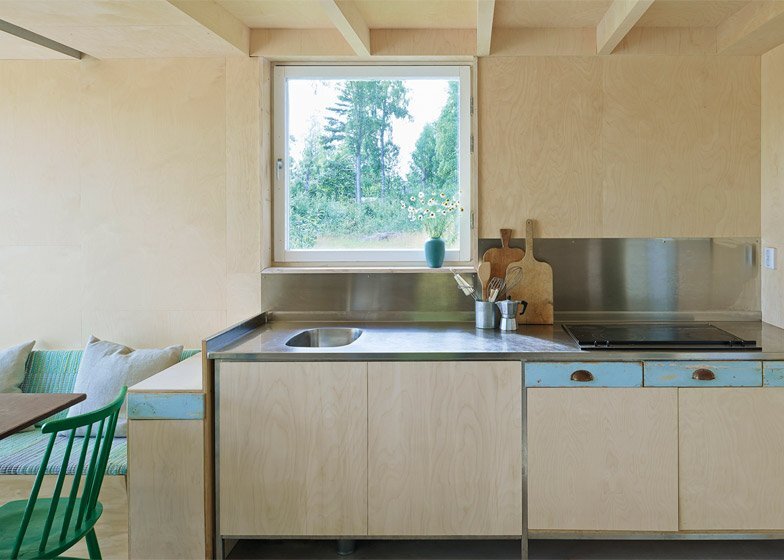 The inside is modern and functional. The walls have been finished with birch plywood sheets sourced from a disused puzzle factory. The walls also help to create interesting and unusual rooms. The living room and kitchen on the first floor are a simple affair, focusing on a blend of function and comfort.
The design incorporates a sense of hierarchy. The ground floor, occupied by the living area and kitchen, is the most spacious and as you move up the building the rooms get increasingly smaller. From Qvarsebo: "From each level of the house you can see up to the next, creating a curiosity to continue to climb and once you're up, the view is breathtaking."
Several points throughout the house are used to provide views out over the landscape, not least of all the Master bedroom, which is found at the very top of the building. According to Qvarsebo, the bedroom fulfils his own self-imposed brief to create "a bedroom beneath the stars".
For more small houses check out this 18th-century cottage renovation by Lynch Architects. Or, Casa Caja, a small affordable self-built home. See all small houses.
Via Dezeen
Photos: Åke E:son Lindman