Designer Klye Schuneman has created this smart tiny house in collaboration with Intel. The house is set in San Francisco and features a host of hi-tech wizardry aimed at automating and simplifying the inhabitants life.
The house makes of smart devices – items and appliances which commonly found in most households, but are internet enabled, allowing you to interact, control and receive feedback on your smartphone or computer. Being created with the help of Intel, this tiny house takes it a step further than most.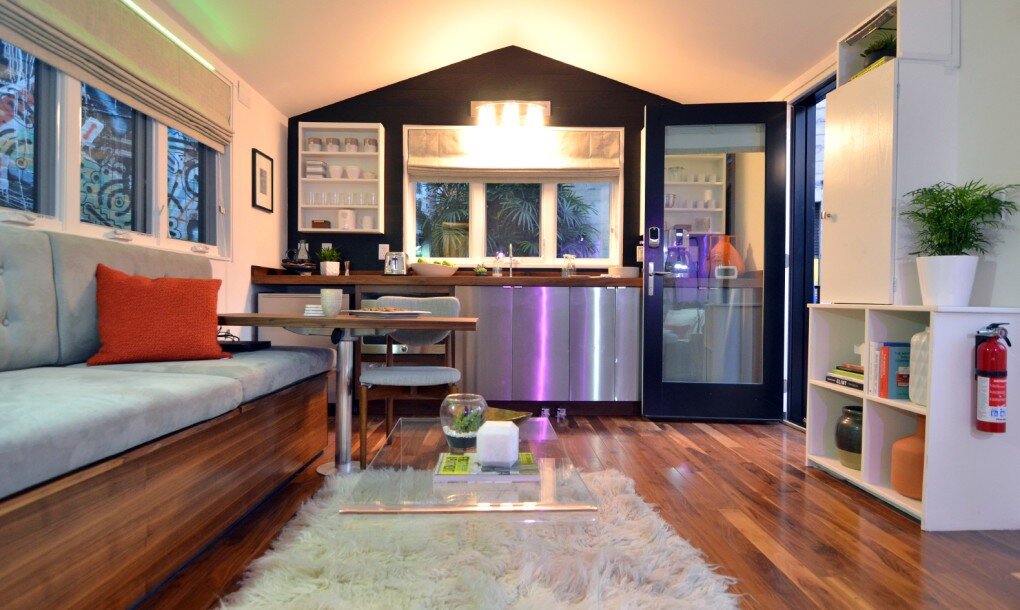 Dubbed the Smart Tiny House, it makes use of Intel's Internet of Things Platform. The IoT Platform allows you to adjust the thermostat, open the door for deliveries, change the color and brightness of lighting, all from your phone. It can even detect a leaking pipe and automatically turn off the taps.
Some of the technological aspects are still under development, like the door which opens using facial recognition to open automatically, but Intel have stated it's an on-going process that will be refined over time.
In terms of space and layout, the home is open plan and features a large multifunctional living area that can accommodate cooking, dining, seating and sleeping. A slide out bed has been hidden under a raised floor at one end of the home (like our own Athru tiny house design).
The bathroom is found next to the raised study area. All in all the house contains 210 square feet of living space. Thanks to it largely being a single room, and the surrounding windows, it doesn't look cramped or claustrophobic. Its size also allows it to be transported by trailer.
For more tiny houses check out this eco-friendly home in Ecuador for a retired couple. Or, Koleliba, a tiny house on wheels that serves as a family retreat. See all tiny houses.