This small, modern house is set in Izumo, Japan. The region is known for the production of rice, and is characterized by wind-break forests and expansive countryside. Designed by Harunatsu-Arch, the house takes advantage of these countryside views.
The building has been created by Harunatsu-Arch on the behalf of a couple in their thirties. Due to the number of occupants, the architects decided to incorporate all the living spaces in a one-storey structure. From the outside, the house is a series of boxy elements separated by glazing that runs the length of the building.
All told the building contains 68 square meters (731 square feet) of floor space. The interior is finished in a mix of warm wood and white walls. A split in levels helps to provide distinction between the different living areas, as well as an extra degree of privacy.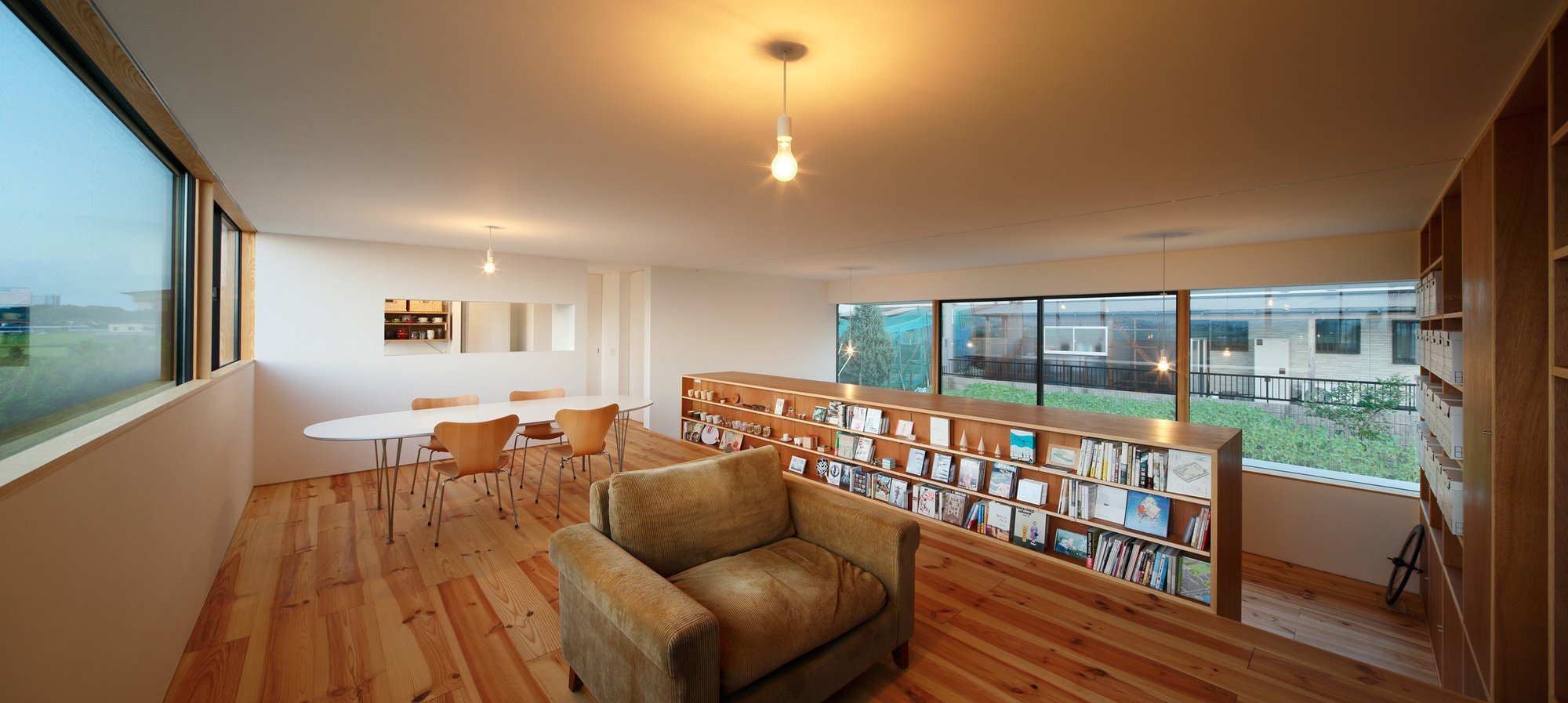 The lower level contains the home's bedroom, with plenty of space for storage (like the couples bikes). The main living area is found on the upper level. By using a raised floor the architects were able to reduce the visibility of the living area from the outside.
The raised portion features an open plan living room and dining area. A small kitchen is also tucked away behind the dining table, and a bathroom can be found adjacent to the kitchen. The size of the kitchen and bathroom in comparison to the rest of the house may be a reflection of the owners lifestyles, or perhaps it's a cultural thing; it seems Japanese homes often have smaller kitchens and bathrooms.
A large storage unit is used to help separate the two floor levels. There's also another unit that runs the length of the south-west wall, providing a place for books and other items. The front and back walls are glazed along the entire length of the building, providing ample natural light, and views of the countryside to the rear.
For more Japanese houses check out HouseAA from Nara City that features a roof that provides privacy. Or, Yamazaki Kentaro's Gard House that contains glass walls looking out into the surrounding greenery. See all Japanese houses.
Via ArchDaily
Photos: Kai Nakamura