Renovated by Dutch designer Frederik Roijé, this small apartment in Amsterdam features a sleek, minimalist interior. Roijé, who is best known for his homeware and furniture work, was aiming to create a "timeless" space through the use of materials, finishes and light.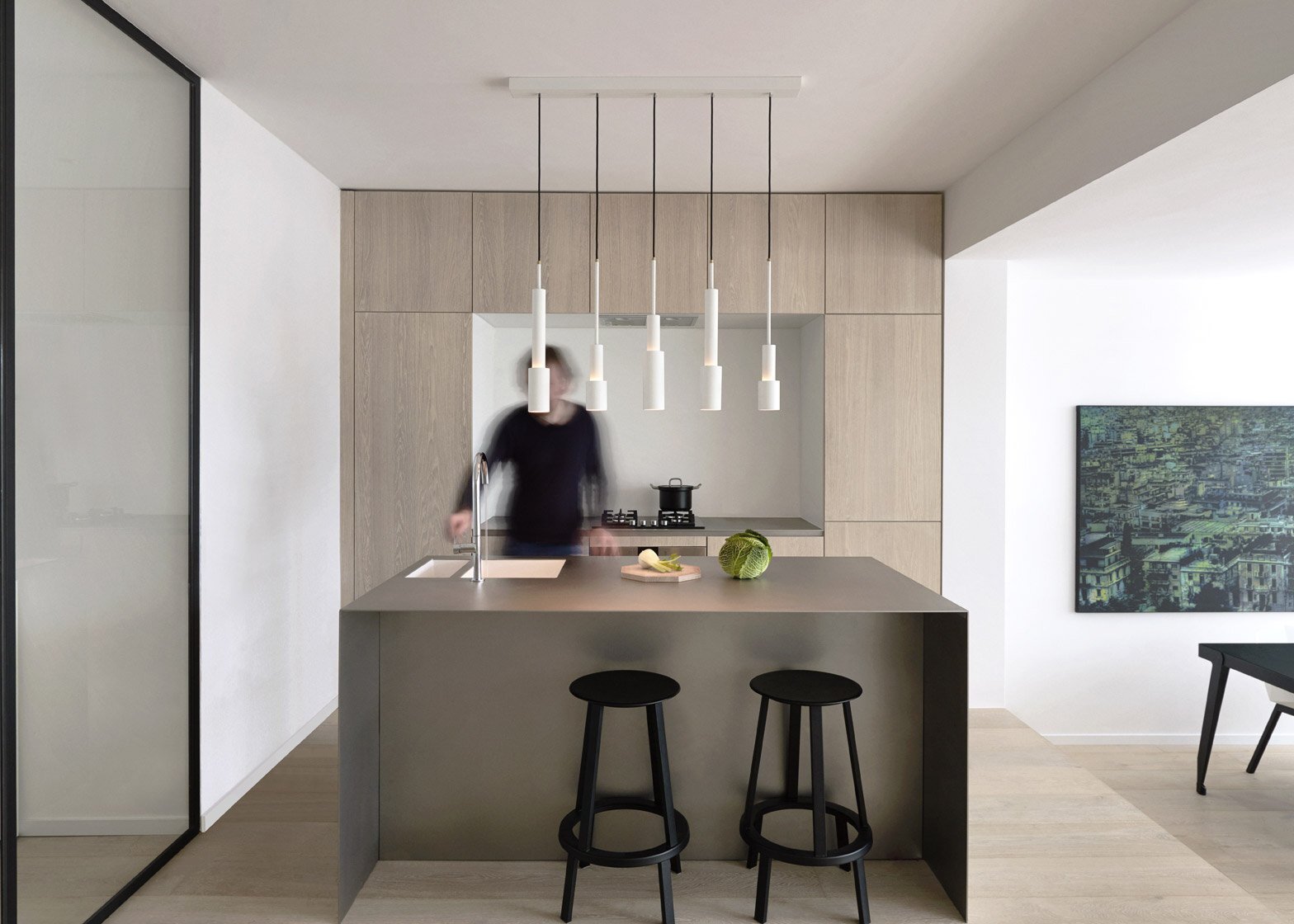 Particular focus was placed on the materials employed. In the kitchen, solid oak was used for the cabinet doors and shelves. The tone of the wood matches the flooring, creating a seamless transition. The wood is complimented by a brushed stainless-steel island.
Furniture by the designer is featured throughout, including the pendant lights and metal stools in the kitchen. From Roijé: "The entire interior design has been reduced to the essence of lines, surfaces and volumes. The signature of Frederik Roijé is present in the entire apartment, and is recognisable by its simplicity and functionality."
The process of creating this minimalist, distraction free, interior wasn't straightforward though – the interior layout had to be changed substantially in order to achieve its open plan. The kitchen, living room and dining area are now contained in a single space, defined by varying floor levels.
Some of the internal partition walls were also replaced with glass partitions, allowing natural light to travel into the mid-section of the home: "The use of glass walls give the apartment clear lines of sight and maximise the spatial experience. Moreover, this provides each room with daylight."
In terms of layout, the entry leads to a corridor from which you can access the master bedroom and the second smaller, single-bed, bedroom. The bathroom is set between the two bedrooms with each having separate access to it. The kitchen follows on from the bedrooms and has one wall that's dedicated to storage. The kitchen and dining area are last, and overlook a small garden to the back of the property.
For more small apartments check out the Domino Loft, which features a multifunctional living space. Or, Unfolding Apartment, a tiny transforming apartment from Manhattan. See all apartments.
Via Dezeen
Photos: Dutchphotography