Designed and built by Portuguese builder Telmo Cadavez, this micro-cabin has been made from mostly natural materials and has the ability to be rotated.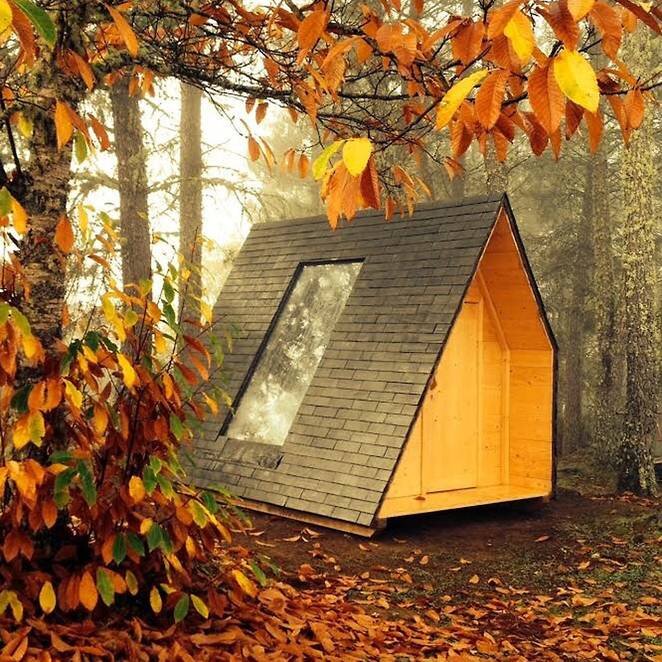 Cadavez built the cabin with the help of family and friends. The structure is largely composed of wood including the main framing, the interior finish and the insulation (in the form of cork). The exterior is clad with slate – a resistant and yet again, natural material.
Its form is derived from the typical A-frame cabin, but Cadavez has opted for an asymmetric variation that makes the inside more functional. Given its footprint is just 86 square feet (8 square meters), it manages to pack quite a few features, including a sitting/dining area, and a fold-away sleeping space.
Being able to rotate the cabin allows people to manually adjust the light and privacy levels. You can follow the path of the sun, or even track the stars at night. Thanks to its large floor to apex window, the inside isn't short of natural light. It also has the effect of preventing it from becoming a closed-in, claustrophobic box.
The fold-down table is accompanied by two stools, that in turn can be used to create a larger seating area, or to support the hide-away bed. When transformed into a sleeping space, the bed almost entirely covers the floor area. It's a simple but well executed design.
If you're interested you can actually rent out one of these little getaways in Montesinho Park.
For more cabins check out Casa Caldera, a quiet retreat among the San Rafael Valley. Or, Starlight Room, a unique tiny cabin that's set on skis, and located in the Dolomite mountain range. See all cabins.
Via TreeHugger
Photos: Telmo Cadavez