In Taipei, Taiwan, the rising cost of living and house prices is making smaller more affordable homes more desirable. This project involved converting a tiny old apartment into a functional home.
The redesign was undertaken by local firm, A Little Design, who were tasked with making the most of the 236 square foot (22 square meters) unit.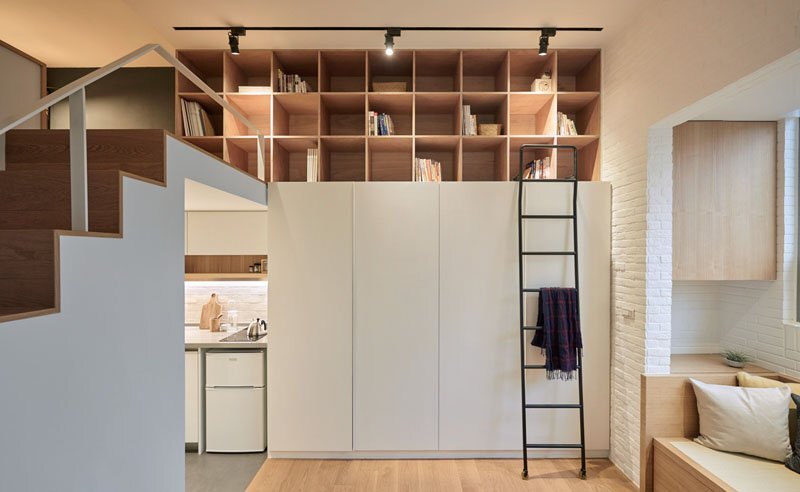 The small footprint forced the designers to come up with a number of creative space-saving solutions. Luckily, the apartment features relatively tall ceilings (about 10 feet tall), allowing them to incorporate a mezzanine loft for the bedroom, as well as extra storage units.
The entryway has a short hallway before leading into the kitchen. The kitchen is simple and compact and includes a washer/dryer, sink, under-counter fridge-freezer, and a two-burner cooktop. A few wall and base cabinets provide enough storage for the owner's needs.
The bathroom is found opposite the kitchen. Like the other rooms in the home, white has been used to keep the space bright, despite only being lit by two small windows. Mirrors have also been used to help reflect the light deeper into the room.
The end of the kitchen is open to the living room. It has a built-in sofa along the gable end, and a bar table runs the length of the adjacent wall. If needed, the table can be moved to the center of the room, doubling up as a dining table to accommodate guests.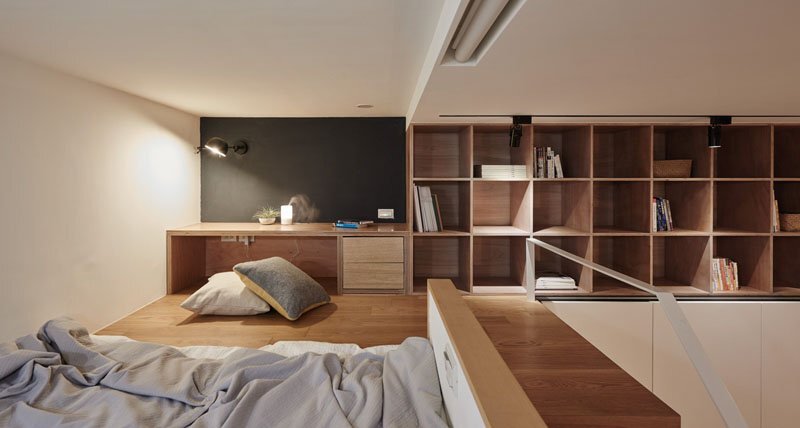 A library style rolling ladder provides access to a bookcase placed above the storage units, while a separate staircase allows access to the loft bedroom. There's also a little floor desk located at the end of the bed.
Via Contemporist
Photos: Hey! Cheese