Located in a residential neighbourhood of Moscow, this relatively small house was built and furnished for the equivalent of just $90,000. The plot, which contains a very high land value, was originally occupied by a house that dated back to the 1930's. The site that the new house sits on measures 45 square meters (484 square feet) and the house itself has an overall floor area of 99 square meters (1065 square feet).
The design was carried out by the Russia architecture firm, Le Atelier. The clients had a small budget of just 65,000 Euros ($90,000) not only to build the house, but also to furnish the interior – no small feat. The relatively small budget forced the architects to find the cheapest design and construction solutions to ensure they meet the needs of the clients while also staying within the confines of their budget.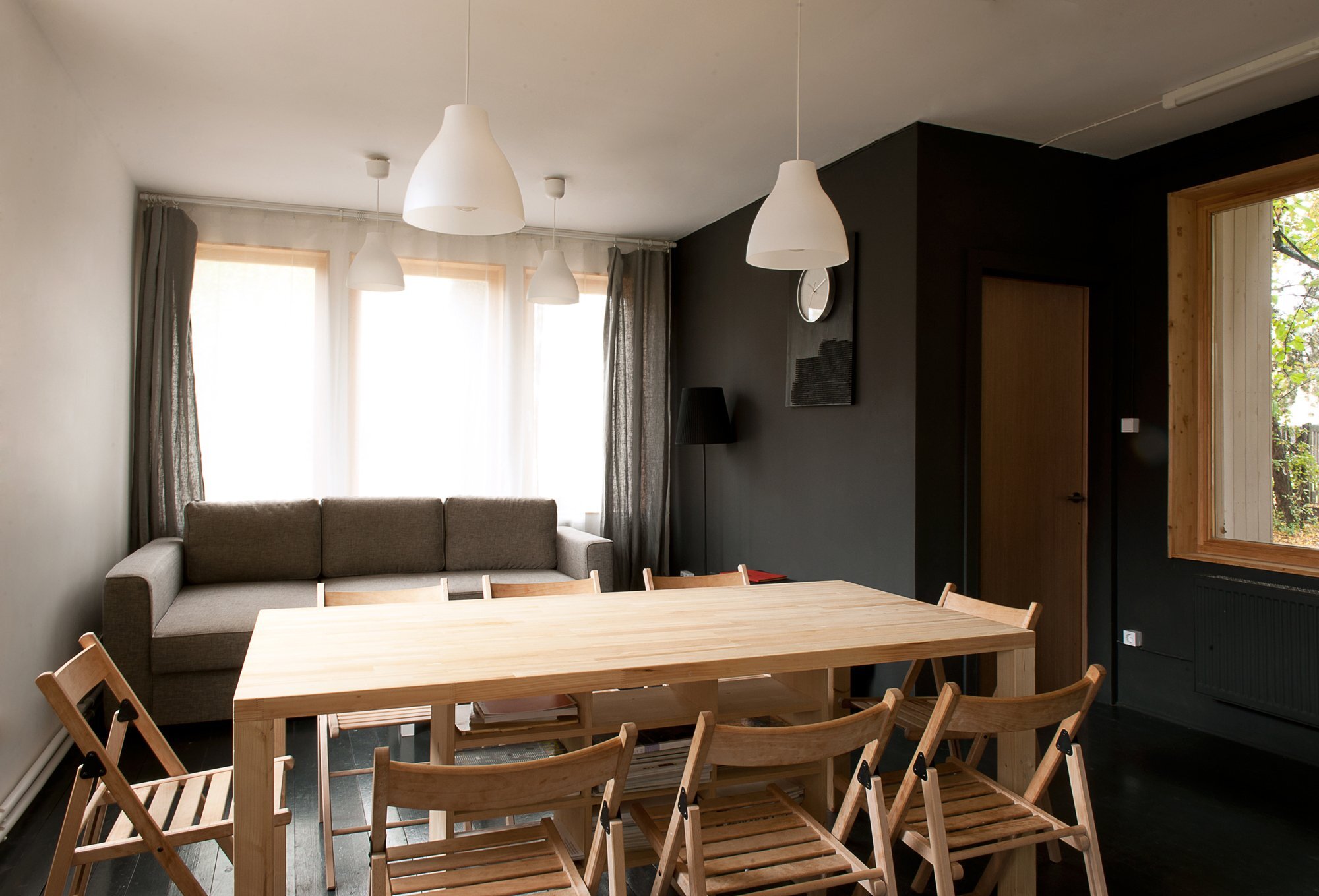 The architects created a house that appears modern in appearance – both inside and out – in an otherwise traditional setting. The exterior is finished deal boards that were painted white. To highlight the point of entry, the "porch" was set back from the front façade and painted yellow. The color yellow was chosen as an attempt to harmonize the new build with the existing traditional house that lies adjacent to it.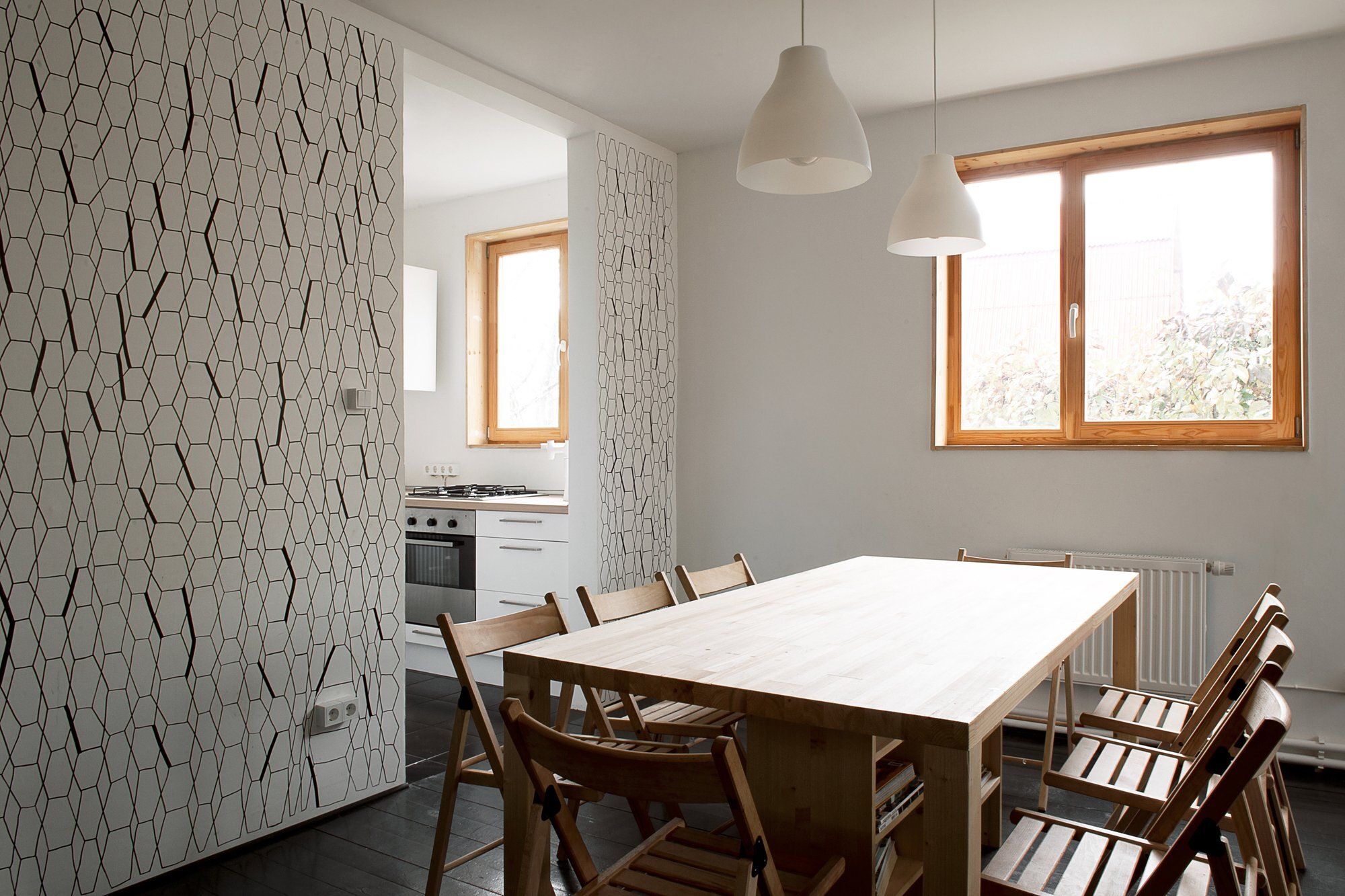 To save costs, Le Atelier opted for a simple shape – a mostly rectangular volume with a shed roof. While the house stands out amongst the other houses in the neighbourhood, it's overall size and proportions are in keeping with the locale, complimenting its environment.
The windows are located on the end bays and orientated according to the direction in which people move throughout the interior. The house had to cater for 5 people; 2 adults and 3 children. The largest area of the home has been dedicated to the children – they have a double height bedroom area on the second floor as well as a study space. There's also a play area on the first level.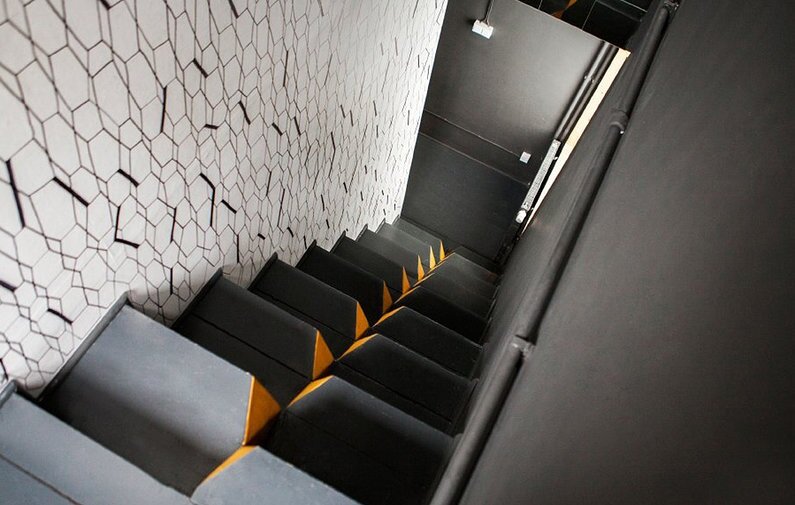 The master bedroom has a ceiling height of 5 meters and a relatively spacious cloakroom. Less space has been allocated to the living room, dining area and kitchen. The staircase contains an alternating tread, and the architects designed and built a 1:1 mock-up that the children tested to ensure that it was suitable. As a safety feature, they decided to remove the sharp edges, the cut-outs of which are painted yellow. To minimise costs and maximise function, almost all of the furniture in the house is custom built.
For more small houses check out Canoe Bays rustic cabin retreat that's actually classified as an RV. Or the 12.20 House in Brazil – a small scale contemporary home by Alex Nogueira. See all small houses.
Via ArchDaily
Photos: Lucia Tolstova