This tiny apartment in Paris recently refurbished in order to transform the space into a habitable living area. The redesign was carried out by Studio Kitoko, who have compared the apartment to a Swiss Army Knife due to its ability to hold and conceal a variety of different furnishings.
According to Studio Kitoko, the inventive design solutions featured in the tiny apartment are a "game of sliding and folding, it can contain a multitude of tools in a very small space." And the space is indeed small, it comes in at just 87 square feet, or 8 square meters.
The apartment is set in the attic of a Hausmann 7 storey building. The room itself used to serve as a maid's quarters. Within the limited space they've managed to incorporate a bed, a dining table, or study desk, a wardrobe, a hide-away staircase, a kitchenette and a bathroom.
A single component is use to house the bed, staircase, storage and desk. The bed is raised and accessed by a small pull-out staircase. The space below the bed is then used as a wardrobe. Around the center of the unit, there's a small table with two stools fastened to its underside.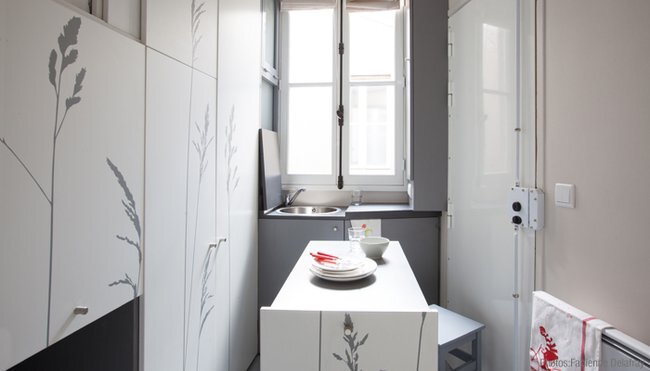 The bathroom lies flush with the living unit, and is accessed by the last panel before reaching the kitchen area. The kitchen itself has a sink with a fold-down cover (allowing it to be used as a work surface), a small under-counter fridge and a plug-in stove.
Tiny living on this scale may not be everyone's cup of tea, but I'm sure there are plenty of people who could easily adapt to it, particularly in this bustling, pricey district of Paris.
For more apartments check out Stream Belmont, a LEED-certified apartment complex in Seattle. Or, this micro-apartment called Tower Apartment because it spans several floors. See all apartments.
Via TreeHugger
Photos: Fabienne Delafraye