Taiwanese architecture firm, 5X Studio, were responsible for creating this light filled extension. Over the course of time, the family that occupy the property had outgrown what space they had available to them.
In the end they were faced with either moving to a larger house, or attempting to extend their current home. Being the cheaper of the two options, they went with an extension, which now provides their sons with a series of independent living spaces.
Titled Brothers House, and set in Taoyuan City, Taiwan, the addition was completed in 2016. It's composed of 786-square-feet (73-square-meters) and features everything you'd expect to find in your typical home, bar a kitchen. During the design process, 5X Studio placed emphasis on light, and greenery – two aspects which became central to the project.
The result is a series of light-filled living spaces. Inward looking glass walls help to draw in lots of natural light, while potted plants and trees bring an element of calmness despite its bustling city surroundings.
From the architects: "In daily life, close to experience the subtle changes brought by four seasons, closer to the distance with the clouds, the mood as open as the boundless sky".
The color palette is composed mainly of white and brown tones of wood. Plants provide the only real sparks of color; other than that it's a minimalist finish. The space is split up into two bedrooms, complete with their own study areas, a bathroom, and a room with a washbasin. The connecting corridors between these spaces are all open to the sky above.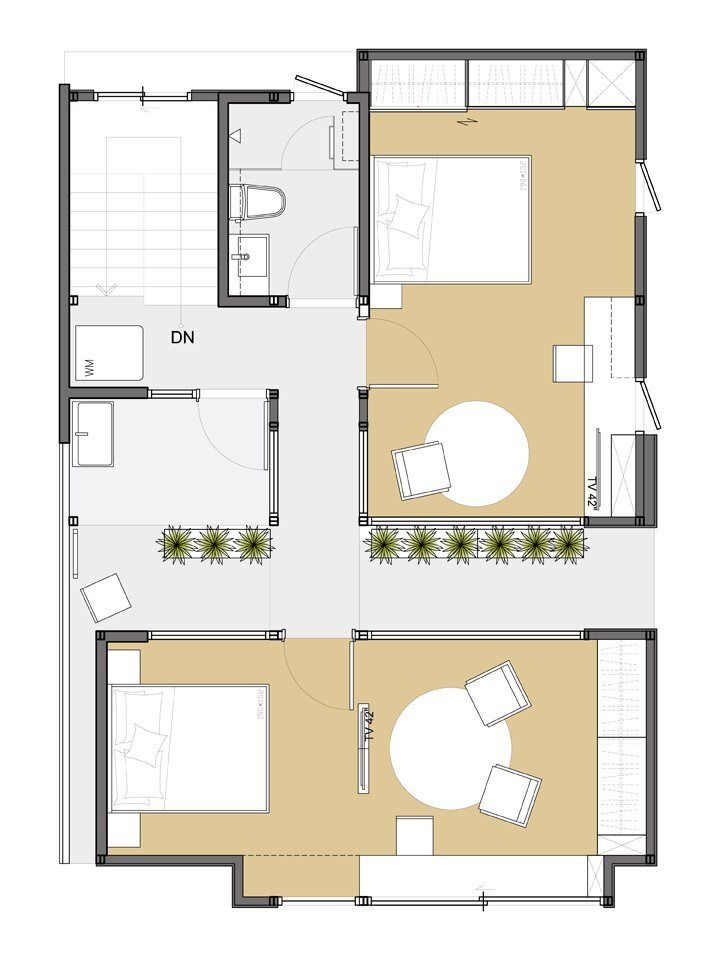 A small ladder off of the washroom leads up to a seated area that looks out over the town below, and the mountains in the distance. From the architects: "To the natural environment and interaction between each other to increase the richness of this living space. Hope that the future of independent living conditions between brothers, still maintain the emotional connection."
For more small houses check out the unusual House in an Orchard by Sepka Architekti. Or, Mrs Fans Plugin House, an affordable alternative to Beijing's property ladder. See all small houses.
Via ArchDaily
Photos: Ice Lo