This 60-year-old apartment in Tel Aviv has been redesigned by interior designer Maayan Zusman and architect Amir Navon. Together the duo created a bright, airy and functional small home that features bespoke carpentry and hidden storage space.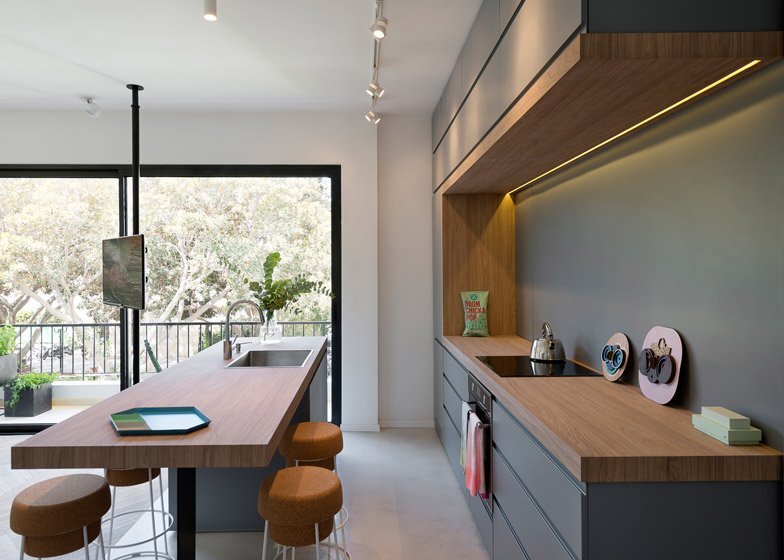 The Ein Gedi Street apartment contains a total area of 592 square feet (55 square meters). Existing partition walls were removed to create an open plan. After this, new storage units were used to divide up and define rooms. From Zusman: "The apartment is pretty small and every centimeter mattered. We wanted to provide as much storage space as possible and yet save the 10 centimetres width that a typical built wall would require."
Upon entering the apartment you'll be greeted by the slick and stylish kitchen, which includes a breakfast/dining area within the island. The living room follows directly on from the kitchen. A TV has been mounted onto a circular steel bar that can be rotated for viewing from either the living room or the kitchen.
The space is split into two main areas by the storage partition wall. Beyond the storage units there are two bedrooms found at each end of the apartment and divided by a small bathroom. The bathroom is accessible from either bedroom and contains a shower, toilet and sink.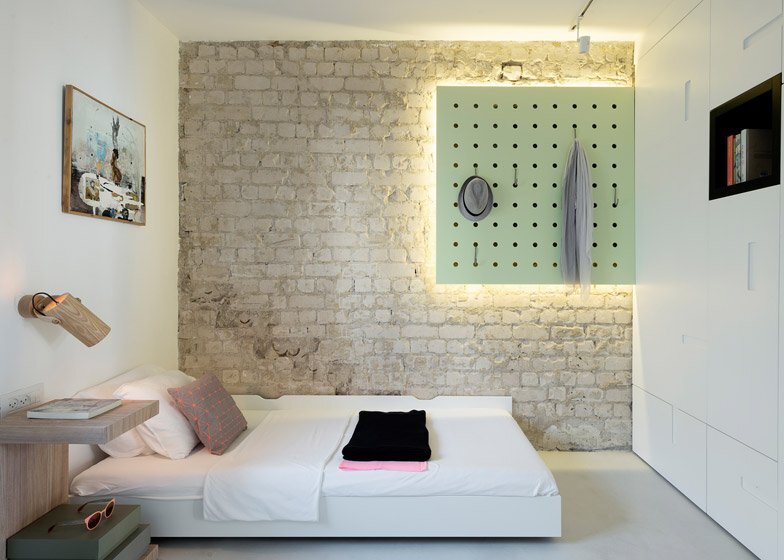 The color scheme consists of white walls, mixed with bright elements such as a pink door, and a bright blue study nook. The overall effect creates a light-hearted, fun atmosphere. The study nook itself is found opposite the bathroom in the main living area and can be "closed-up" to keep the room tidy.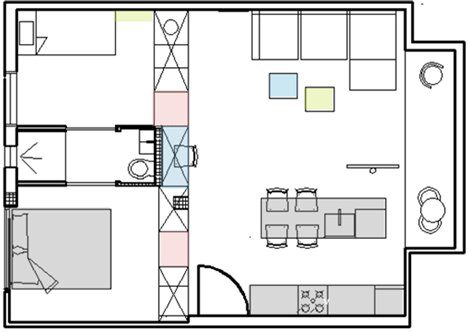 Beyond the open plan living area, there's a balcony that almost stretches the length of the living room. From Zusman: "We were aiming for an interesting contrast of clean yet colourful, modern yet homey, tough yet soft. As the renovation took place in the summer, 10 minutes away from the beach, the summer colour vibes definitely influenced us but are anything but typical."
For more small apartments check out Batipin Apartment which makes use of transforming rooms to double up on space. Or, this simple home that uses up-cycled materials to create unusual furniture pieces. See all apartments.