This beautifully finished apartment has been created by the Paris-based real estate and design firm, A+B Kasha. The one bedroom apartment measures just 270 square feet (25 square meters) in size, and is set on the top floor of a 19th-century building in Paris.
Most designers shy away from such decorative mouldings in small spaces, however this apartment has the setting for them and the ceiling height. The revamp pays tribute to the style and finish that would have been originally found in the building, with a few modern twists.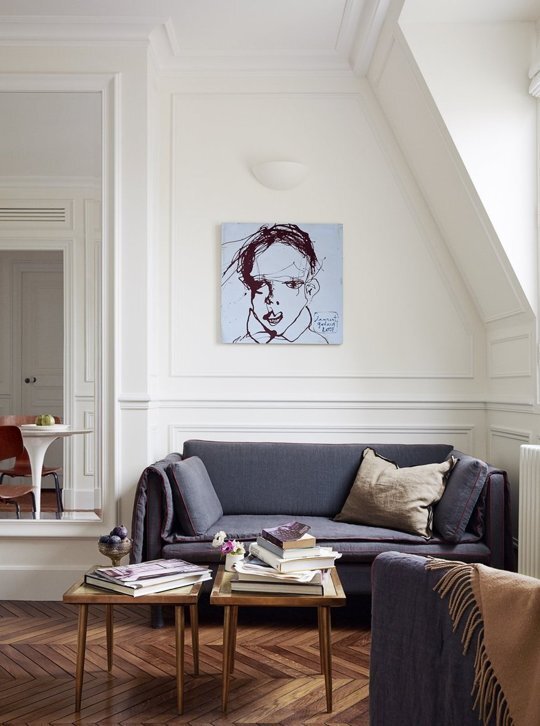 A large mirror is used to bounce light around the room, while also visually increasing the size of the space. The furniture pieces are either mid-century modern, or contemporary in style. The decorative walls, mix of furniture styles and wood flooring all come together to create a light, relaxed atmosphere.
During the course of the project, they added a few partition walls to separate the bathroom, and create a bedroom. Having a separate space to sleep makes it seem more like permanent home, as opposed to a studio arrangement, which often have an air of impermanence about them.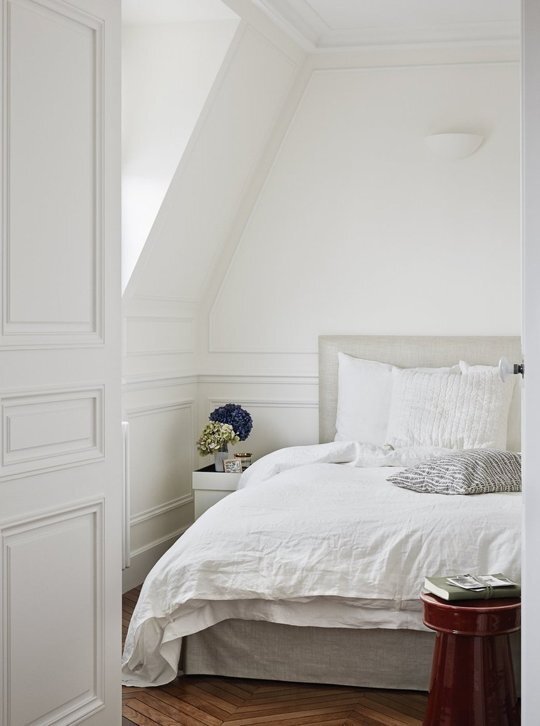 In terms of layout, a small entry hallway provides access to either the bathroom on the right, or the main living area on the left. The bathroom contains a shower, sink, and toilet. The living area is an open plan space designed to serve as a kitchen, dining area, and living room.
Double doors lead through to the bedroom. The doors are flanked by clothes closets on each side. The windows overlook the rooftops of St. Germain and out towards the Eiffel tower. If you're taken with the apartment, it's on sale for a mere €695,000.
For more small apartments check out this historic Marmalade factory conversion. Or, this tiny Shanghai apartment that aims to make more of less. See all small apartments.
Via Apartment Therapy
Photos: A+B Kasha