Originally a Doorman's residence, this tiny abode was converted into a functional home by architect Jérôme Vinçon. Jérôme was enlisted by his two friends, Michel Craca and Gaelle Potel, who had bought the apartment due to its proximity to their workplace, and its affordability.
Thanks to its high, 17 foot tall ceiling, Jérôme was able to create a series of stacked living spaces. The micro-apartment contains just 269 square feet (25 square meters) of floor space spread over four levels. The basement features a snug bedroom, this is followed by the kitchen on the next level, then the living room, and finally the bathroom.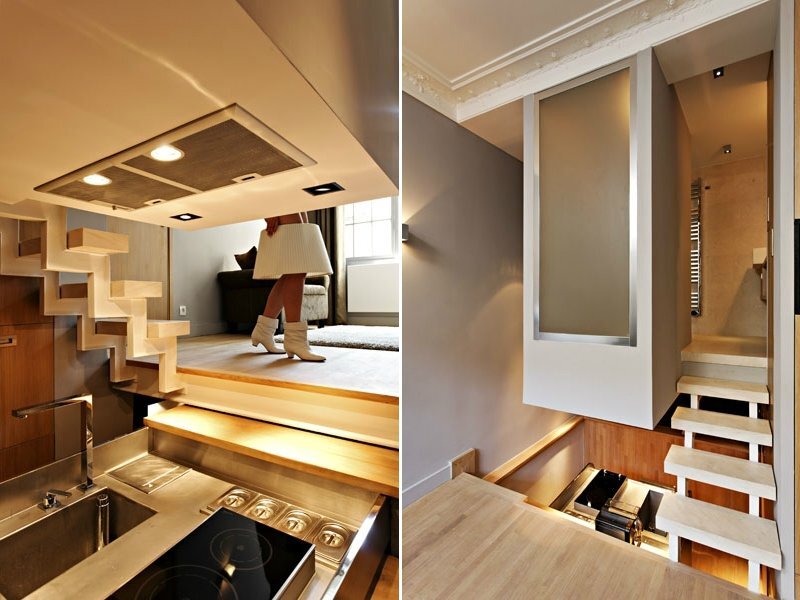 The kitchen was one of the most critical aspects of the project, not only because of the custom built cabinetry and non-standard appliances, but because Michel is a chef and it had to cater for his passion. They incorporated a professional grade kitchenette, with storage units and work surfaces placed around it.
Other interesting features include the living room floor/bedroom ceiling, which, in order to save on headroom and improve acoustic performance, was created from terracotta bricks and slender steel beams. In the bathroom, the shower is supported by a beam in the ceiling. This allows it to hover over the kitchen below, providing a means of introducing more natural light.
For more apartments check out this funky 320 square foot pad that aims to make the most of its limited floor plan. Or, this minimalist apartment from Madrid. See all apartments.
Via TreeHugger & Fair Companies
Photos: Atelier Architecture Jérôme Vinçon