First built in the 1970s, this property has been given a fresh look thanks to architects Juan Pablo Ochoa and Ruben Padilla. The home is set in the neighborhood of Guadalajara, Mexico, and is the ground floor of an eight story apartment block.
The apartment is set within a closed street, and was originally built to house a middle-class family. It contains two bedrooms, a living room, kitchen, bathroom, utility and laundry area, and a patio.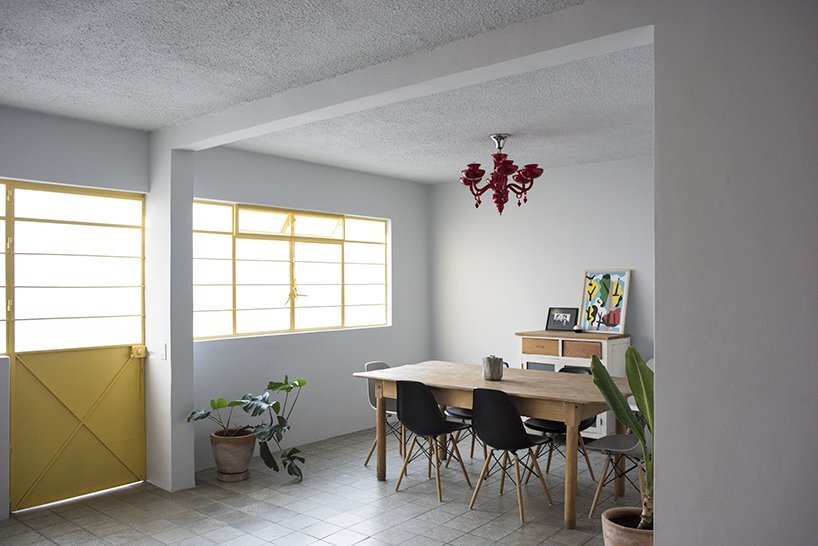 The interior of the home is now finished in light tones. The walls and ceilings are white throughout, while the floor finishes vary from rough to smooth tile. According to the architects, an attempt was made to preserve and reuse as much of the original materials as possible.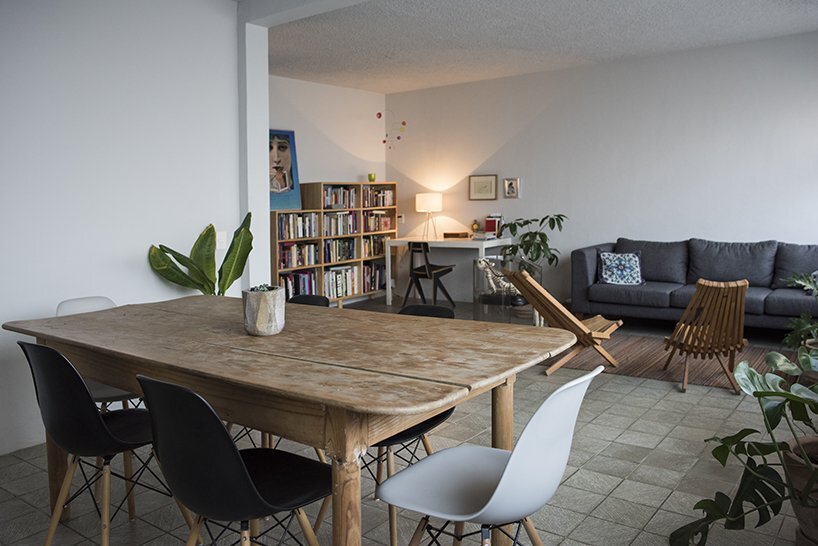 As an example of that reuse, some of the existing steel work was salvaged, along with parts of the pulp floor files. The internal wood doors were restored, and woodwork furniture pieces were built specifically for the new layout. They've attempted to hark back to the properties origins by incorporating plastics and colors that were popular in the 70s.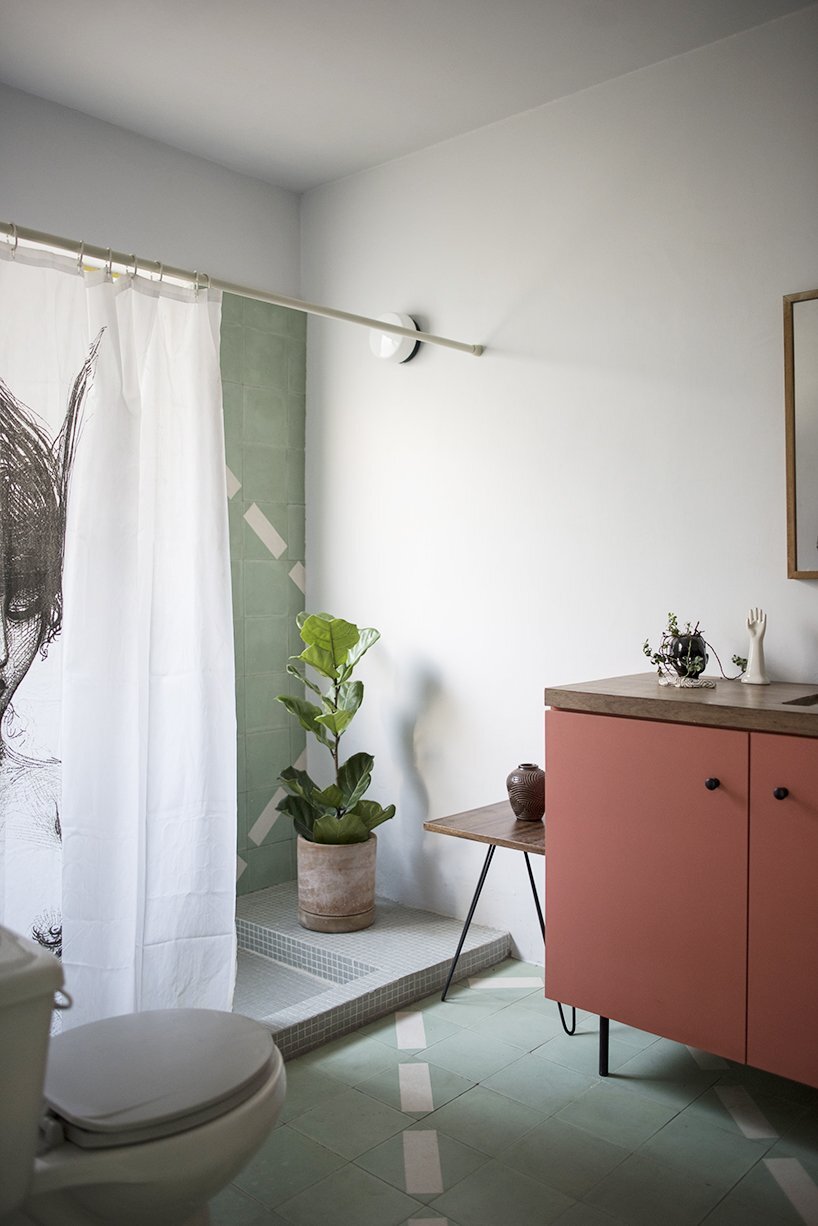 The apartment's second bedroom was removed during the renovation to create larger living spaces. The front part of the home has been opened up to create a living room and dining area. The next third of the property is taken up by the bedroom and adjacent bathroom.
The last portion of the apartment mixes internal and external spaces. The kitchen, found to the very back of the property, is accessed by a small external, but sheltered, walkway. The walkway leads out to the last "room" of the home, a small private patio furnished with a few plants.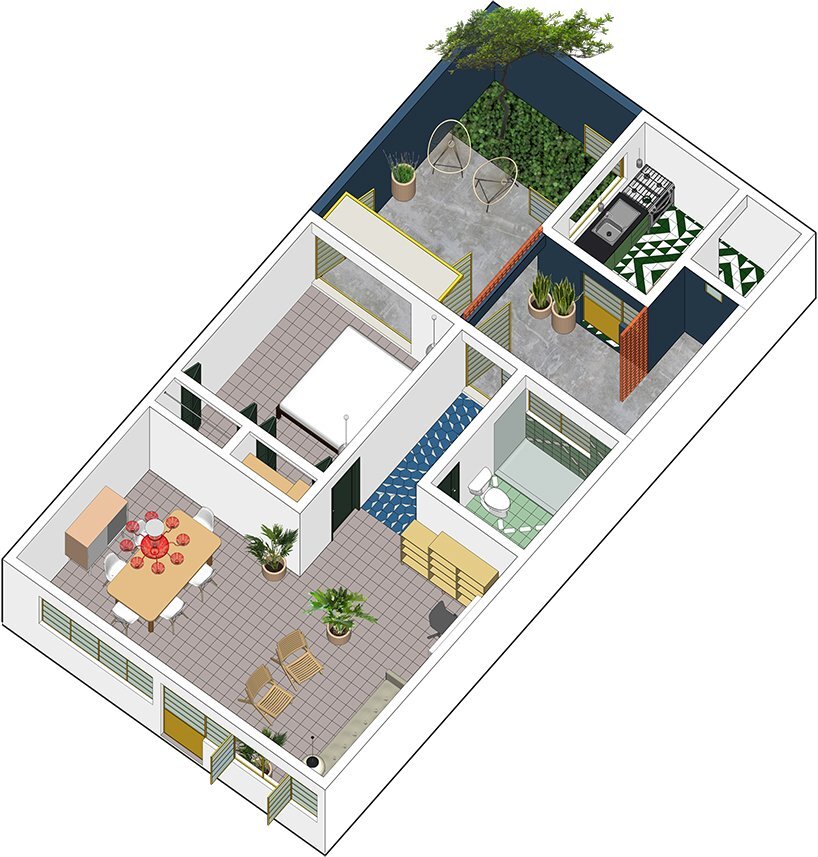 From the architects: "The room adjacent to the exterior has been removed to increase the area of the main space — which now includes the study, living and dining areas. The bedroom opens to the interior patio with a wide window frame while the bathroom is set in the former kitchen zone — releasing a space that now acts as a corridor for better flow of space, light and wind. The service room has turned into the kitchen which now connects directly to the garden, patio and laundry area for optimal daily use."
For more small homes check out this minimalist rooftop extension to a house for the owner's sons. Or, House in an Orchard by Sepka, an unusual property that takes inspiration from its surroundings. See all small houses.
Via DesignBoom
Photos: Juan Pablo Ochoa