The 12.20 House by Brazilian architect Alex Nogueria is a modern, metal clad home located in the district of Mato Grosso do Sul, Brazil. The house is just 45 square meters (484 square feet) in size, and is built on a large garden plot which is about 8 times larger than the house itself.
12.20 House features a large sliding glass door that runs almost the entire length of the building. The series of doors can be pulled back to open up the main living space, creating an almost seamless transition between the interior and the exterior. In contrast to the rear of the house, the front façade has been heavily shaded from the sunlight to protect the interior from overheating.
The interior living spaces are all open plan and flow into one another, apart from the bathroom which, for obvious reasons, requires a greater degree of privacy. Upon entering the home, there is a small study area designed for a single person. Beyond this lies the living room of the home, which leads directly into the kitchen/dining area with a breakfast bar, and lastly the bedroom.
The bedroom has been left open and in plain sight to anyone in the living room and kitchen – a little unusual given that people tend to close-off, or screen this more private room of a house.
The interior has been finished in a contemporary, minimalist style with clean straight lines appearing throughout the different spaces. The majority of personal items are hidden away from view in storage cabinets, bar for a few shirts seen hanging from an open wardrobe in the bedroom.
The block work structure has been left exposed along the bedroom wall, giving the house an almost industrial character, and the glossed floor helps to reflect light from the outside into the rear of the living spaces. From the architect: "A glass door which accounts for almost the entire rear façade, gives access to the deck, and continuous view of the garden, the place where heaven and a yellow sculpture made with the leftovers of the metal structure dominate micro landscape."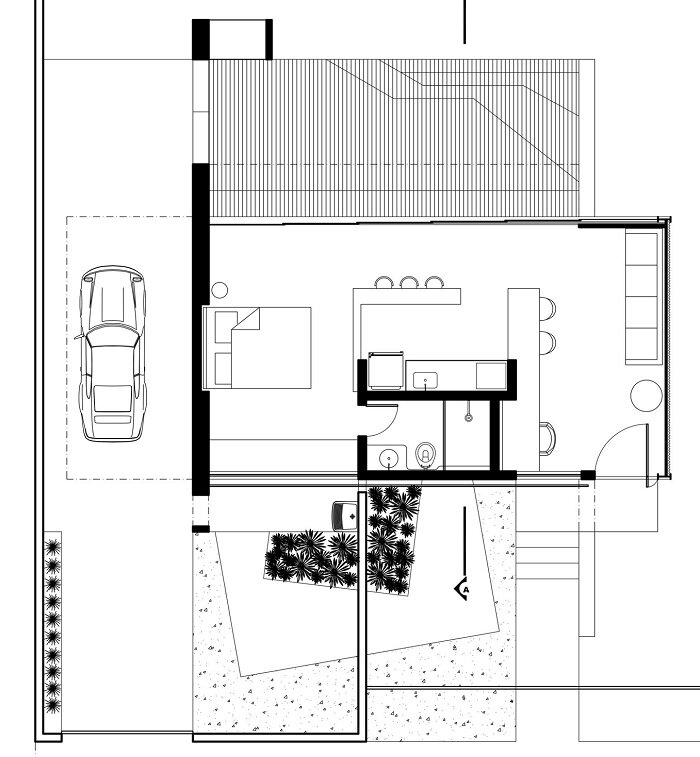 "The structure is apparent and mixed, both concrete and metal profiles are part of the aesthetic proposal, both for its inherent visual appearance and explained either by the vain and balances achieved, a game that tries to be subtle and objective."
For more small houses check out this four season ski home from Japan that features an exterior living space that can be enclosed during the winter. Or this modern house by Benjamin Waechter Architects that was built on a restricted site. See all small houses.
Via ArchDaily
Photos: André Barbosa