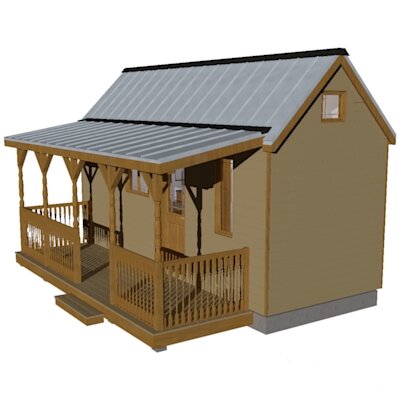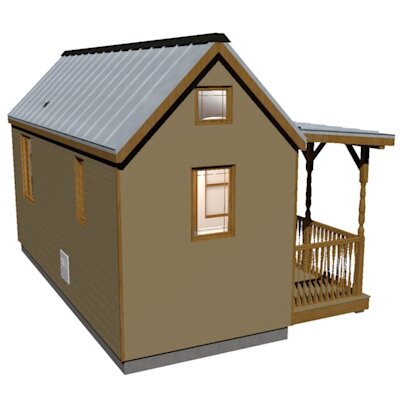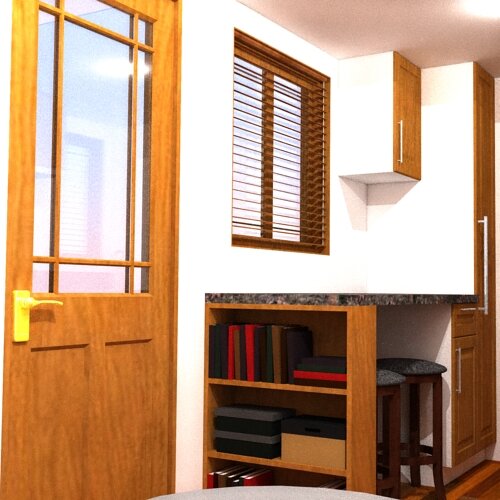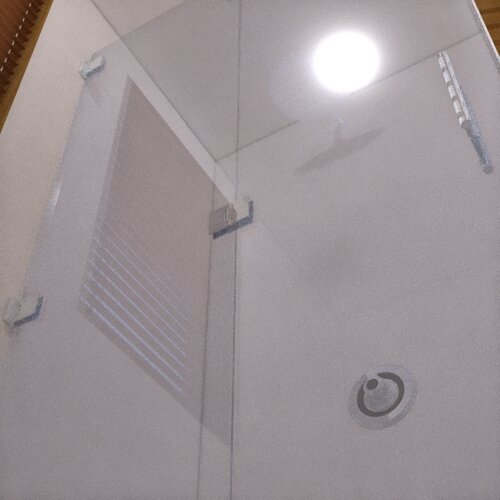 The Humblebee Tiny House + Porch
The Humblebee is one of our larger tiny houses. It features comfortable open-plan living areas, with lots of storage compartments. This version of the Humblebee tiny house includes a large 5′-6″ by 18′ porch.
Comfortable living spaces with plenty of storage areas
Large porch extends living area of the home & is perfect for relaxing on
Functional kitchen with a dedicated dining area and pantry storage
Download a free set of study plans
Full Plans $159
Living Room
The living room features two armchairs, a coffee table and a large closet/shelving assembly for all your storage needs. There's also space for a wall-mounted TV so you can kick back and relax. The cathedral ceiling and the surrounding windows help to create a bright and spacious living area. If required, you can replace the two armchairs with a small sofa-bed to create an additional sleeping space.
Kitchen
Due to the open-plan layout, the living room leads directly into the kitchen, which has a dining/breakfast bar for two on one side (with storage below). On the other you side you will find all your kitchen essentials – sink, two-burner cook-top and a refrigerator. Not to mention the two pull-out pantry's for all your 'bits and bobs'.
Bathroom
The bathroom in this home is the largest of all our homes – at 3-foot by 7-foot it's able to accommodate a variety of shower and toilet set-ups. The partition walls between the ktichen and bathroom contain recessed cabinetry, which is useful for the storage of smaller items.
Sleeping/Storage Loft
The loft can accommodate a queen-size mattress with space to spare. Both the loft and the storage area are naturally lit by picture windows.
Trailer
This tiny house has been designed for permanent foundations only.

Full Plans
Details for permanent foundations and trailers
Annotated exterior elevations
General floor plans & construction floor plans
Electrical schematic
Construction framing plans
Partition construction details
Porch construction details
Timber cut details
Custom cabinetry overview
Transverse cross-sections
Nailing schedule
Components page with details of fixtures, fittings & appliances
Construction notes, hints and tips
Residential license to build one house
Framing Plan Set
Details for permanent foundations and trailers
Construction framing plans
Porch construction details
Timber cut details
Transverse cross-sections
Nailing schedule
Construction notes, hints and tips
Residential license to build one house
For more information about our plans check out our Tiny House Plans – What's Included? page.
| Area | Dimensions | Area | Dimensions |
| --- | --- | --- | --- |
| Footprint | 13′-2″ x 20′ | House Height | 12′-2″ |
| Living Area | 7′ x 9′-7″ | Kitchen | 7′ x 6′-5″ |
| Bathroom | 7′ x 3′ | Ceiling Height | 7′ |
| Loft | 7′ x 9′-9″ | Loft Height | 3′-8″ |
| Width @ Eaves | 8′-3″ | Total Area | 226 sq ft |

All our tiny houses are designed & checked by a structural engineer
Our plans are among the highest quality available, at discounted prices
You can either download your plans instantly or order a printed set
Plans are designed for the self-builder with lots of helpful drawings & info
Free updates that contain additional options, schematics & add-ons
Free support – because we care about your home as much as you do!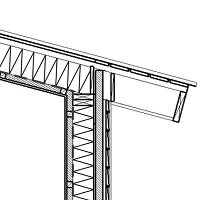 WALLS & ROOF
All our tiny houses are built using advanced stick-frame construction techniques. A variety of different types of insulation can be installed, from sheep's wool to expanded polystyrene. We also recommend the use of internal vapour barriers.
EXTERNAL CLADDING
How you clad your tiny house is up to you, but we recommend sustainably harvested timber that's been approved by the Forest Stewardship Council (FSC). Other cladding options include lightweight steel panels, and vinyl siding.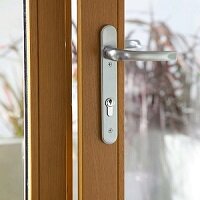 DOORS & WINDOWS
Our tiny houses are designed , and to meet the needs of many. That's why we specify windows from Jeld Wen, an international company that specialises in the construction of quality doors and windows for a wide range of budgets.
HEATING & VENTILATION
There are many options for heating a tiny house. Some which have been installed in our tiny houses include the Morso 1440 wood burning stove, the Newport P-9000 stainless steel fireplace, and the Envi wall-panel heater.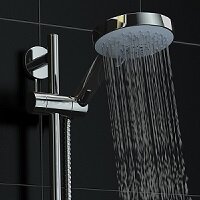 PLUMBING
Plumbing systems for a tiny house can be as complicated or simply as needed. Black and grey water tanks can be installed to create an RV-like system, while others prefer composting toilets to minimise their environmental impact.
POWER
A tiny house can be hooked up to the main grid, or you can decide to go off-grid and use solar panels to provide for your electrical needs. Some of our tiny house plans include PV-system schematics to help you along your way.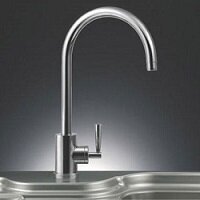 FIXTURES & FITTINGS
Our tiny houses are designed with standard-sized components in mind to minimise the amount of work, and cost to create your dream tiny home. All the main components (like the kitchen stove and sink) are specified in the plans.
FINISHES
We typically specify a painted drywall finish for the interior of our homes, but there's nothing to stop you from installing timber cladding (a popular finish among tiny houses) or even tiles in your kitchen or bathroom.
Save money: the average tiny house costs just $23,000 to build. That's 92% less than your average house – a saving of $249,000 before interest.
Live a green lifestyle with a tiny carbon footprint. Less materials are required for construction, and less energy is needed to power your home.
A tiny house on wheels gives you more freedom. Live how you want, where you want, when you want. See the world from your living room.
Less stuff, more life. A tiny house allows you to remove the unnecessary clutter from your life, and focus on what really matters.
Downloadable plans not for you? You can purchase a set of printed plans below – delivery is free! For more information about printed plans check out our Printed Tiny House Plans page.
Printed Plans $234
"A tiny house design that's perfect for people who want an alternative to sleeping in a loft. Love your creativity and how great you are to work with!"

Karen Batchelor,

Livinglargewithless.com
"Thank you so much! You guys are the best! I'll keep you posted on my progress."
"There is no comparison between you guys and the rest of the tiny house plans out there."
"The plans are fantastic! Your pricing is one heck of a deal… I really think they are outstanding value for the money!"

Stephen Wirzylo,

steves124squarefeet.blogspot.com
"The plans are AWESOME! Thank you so much!"
"Thank you for your time, your patience, and going that extra mile for me. You are awesome! Thank you so much!"
Get in touch
Got a Question? We're more than happy to answer it!
Whether it's about construction or why elephants can't jump, contact us and we'll try our best to answer your query.
Get in touch